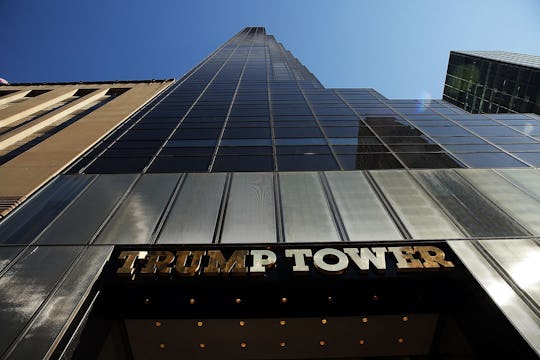 Spencer Platt/Getty Images News/Getty Images
Trump's Latest Pick Is A Defender Of Israel
In a statement released by his campaign on Tuesday night, President-elect Donald Trump announced that he'd chosen Jason D. Greenblatt for a vital position in his Cabinet. The two have a business relationship that spans multiple decades, but who is Jason D. Greenblatt, and what, exactly, does a representative for international negotiations do? Greenblatt, a lawyer who has served as the Trump Organization's chief legal officer, will assist "with international negotiations of all types, and trade deals around the world" in his new role. CNN reports, though, that "a source familiar with the appointment...noted that Greenblatt will primarily will be working on [the] Israel-Palestinian peace process."
Greenblatt's bio as provided in Trump's statement details his career as a real estate attorney as well as his experience in public speaking and lecturing. Founder of the charity Inspire Conversation, Greenblatt's website details the organization's mission "to teach ... children to live compassionate lives ... while helping to promote family bonding." The Forward, a publication that "delivers incisive coverage of the issues, ideas and institutions that matter to American Jews" also notes Greenblatt's background, describing Greenblatt as "an Orthodox Jewish father of six from Teaneck, New Jersey, who wears his kippah at work."
In an op-ed for CNN this summer entitled "Trump gets it right on Jerusalem," Greenblatt praised the then-candidate, assuring that "Trump will eliminate the Israel-bashing that has been a regular item on the agenda of the current administration" and concluding that "a Trump administration will be a true friend to Israel." During Trump's campaign, Greenblatt worked as one of Trump's "principal advisors on the U.S.-Israel relationship."
In announcing the decision, Trump's statement spoke highly of Greenblatt, saying, "He has a history of negotiating substantial, complex transactions on my behalf, as well as the expertise to bring parties together and build consensus on difficult and sensitive topics."
Greenblatt's response to the appointment thanked Trump for the appointment and shared his personal beliefs on what he expects to bring to his upcoming role:
My philosophy, in both business and in life, is that bringing people together and working to unite, rather than to divide, is the strongest path to success. I truly believe that this approach is one that can yield results for the United States in matters all over the world.
Though the specifics of Greenblatt's position are yet to be seen, Trump created this role for Greenblatt, leaving many wondering whether this appointment fills a specific need or instead serves to promote and privilege his inner circle. The decision also follows Trump's shown pattern of choosing close associates as his preferred Cabinet members.