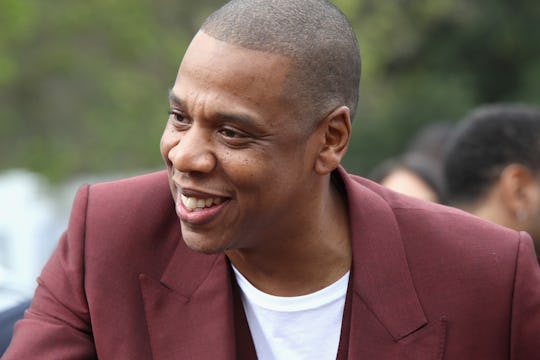 Ari Perilstein/Getty Images Entertainment/Getty Images
Who Is JAY-Z's Mom? Gloria Carter Comes Out
JAY-Z released his 13th album, 4:44, last night on TIDAL, the music streaming service that he owns. The album is an incredibly personal look at several issues that are clearly important to the rapper, and one song in particular is catching the attention of a lot of fans and reviewers. On the song "Smile," JAY-Z's mother, Gloria Carter, comes out as a lesbian. And that's a seriously big deal. So who is JAY-Z's mom? Gloria Carter is the woman behind one of the legends of rap music.
JAY-Z first references his mom's sexuality earlier in the song:
Mama had four kids, but she's a lesbian
Had to pretend so long that she's a thespian
Had to hide in the closet, so she medicate
Society shame and the pain was too much to take
Cried tears of joy when you fell in love
Don't matter to me if it's a him or her
I just wanna see you smile through all the hate
Marie Antoinette, baby, let 'em eat cake
Then, at the end of "Smile," Gloria Carter does the outro herself, reading a spoken word poem, according to HuffPost:
Living in the shadow / Can you imagine what kind of life it is to live?
In the shadows people see you as happy and free / Because that's what you want them to see.
The world is changing and they say it's time to be free / But you live with the fear of just being me...
Living in the shadow feels like the safe place to be / No harm for them, no harm for me.
But life is short, and it's time to be free / Love who you love, because life isn't guaranteed.
And though the Huffington Post reported that JAY-Z has spoken out in support of the LGBTQ community in the past, this is the first time Gloria Carter's sexuality has been confirmed.
In an interview with CNN in 2012, JAY-Z reportedly said:
I've always thought [not allowing same-sex individuals to wed] was still, um, holding the country back. What people do in their own homes is their business and you can choose to love whoever you love.
And it sounds like he's thrilled his mom can finally love whoever she wants, and wanted to support that with his new 4:44 album and the song, "Smile."
Now that Gloria Carter has come out in "a spoken word piece about true freedom," as described by Vibe, people are curious to know more about the woman who raised JAY-Z. What should not come as a shock to anyone is that she's kind of an amazing woman.
According to People, since 2003, Carter has worked to help less-fortunate individuals who deal with "socio-economic hardships" to advance their education via the Shawn Carter Foundation. According to the organization's website, the Foundation has "supported initiatives to empower youth and communities in need through the Foundation's programs," which include scholarships, college prep, professional development, and much more.
According to USA Today, Carter has had her share of both tough times and successes herself. She reportedly worked for 30 years for the New York City comptroller, going from clerk to investment analyst in that career field. And when she separated from JAY-Z's father after 13 years of marriage, she basically raised her four children by herself. That might be partly why Shawn Carter Foundation scholarship recipients can include single moms as well. Plus, in true "do what you gotta do" fashion, Carter reportedly told USA Today:
Sometimes I took on an extra job as a security guard to make ends meet.
In addition, according to that publication, as of March 2014 Carter had eight grandchildren, and one great-grandchild — and that was before the arrival of Beyoncé's twins in June. So she's clearly very busy being a grandma, too.
Outside of her family, now that Carter has come out, she'll likely influence a lot of people she doesn't even know — in particular, lesbian women of color. According to Billboard, GLAAD President & CEO Sarah Kate Ellis released a statement on Friday about Carter coming out, which read:
Lesbian women are all too often erased or excluded from narratives surrounding LGBTQ people. By sharing her truth with the world, Gloria Carter is increasing visibility of lesbian women of color at a critical time and sending a powerful message of empowerment to the entire LGBTQ community that is perfectly timed with the end of Pride Month.
Though, it wouldn't be a huge surprise if Carter doesn't make herself into an outspoken symbol of the LGBTQ community anytime soon, and that's totally fine. She reportedly told USA Today in the past that she's pretty shy, and though she's learning to step out of her comfort zone with her work with the foundation, no one should demand that she do any more on behalf of the community if she doesn't want to.
Coming out is a deeply personal thing, and the fact that Carter so bravely did so on 4:44 is a really amazing act of bravery on her part, all by itself. But, as it turns out, it's just the latest in a series of amazing things the mother of JAY-Z has done in her life.
And if there's one thing we can count on from that family, it's that they aren't done surprising us yet.