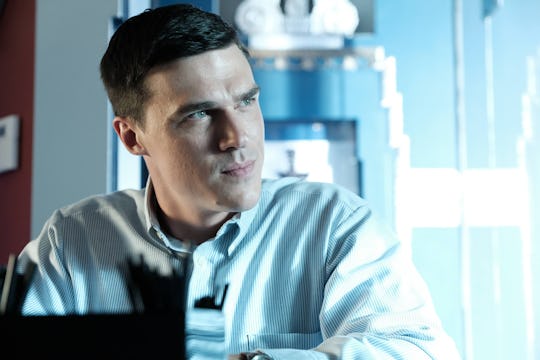 Ray Mickshaw/FX
Everything To Know About Jeff Trail Before Watching 'The Assassination Of Gianni Versace'
In "House by the Lake," viewers were briefly introduced to a friend of Andrew Cunanan's named Jeff Trail, but they barely got to know him before he became Cunanan's first victim. So who is Jeff Trail on The Assassination of Gianni Versace? He was an important figure in the real Andrew Cunanan's life, and his story will be expanded on in "Don't Ask Don't Tell."
Trail was an Illinois native who relocated to San Diego while he was in the Navy, which was where he first met and befriended Cunanan. Trail was well-liked and considered conservative by his family, whom he was very close to, according to Maureen Orth's book Vulgar Favors, upon which the show is based. When talking to Orth, Trail's high school English teacher Joe Lo Cascio remarked on Trail's "strong values and his great code of ethics, a sense of academic vigor and wonderful sense of self, and a very supportive family, obviously."
Despite the closeness of the Trail family, however, Jeff Trail never came out to them. He seemed to struggle with his sexuality for a time, especially in relation to his position in the military. Having to remain closeted while in the Navy during the "Don't Ask, Don't Tell" era was difficult for him, and it was something Trail spoke about anonymously while appearing on 48 Hours in 1993.
In the segment, Trail explained how he was impacted by having to compartmentalize his professional and personal lives, keeping one separate from the other. He had to be on his guard while at work and was "not able to share my life with those around me," according to Orth's reporting of unaired footage. He spoke about the importance of allowing gay people to continue on in the military, because they could never be wholly ousted and it would weaken defense to remove officers who were good at what they did. "It's just whether or not they continue to hunt us and force us to fear," Trail said.
In the aired footage, Trail expressed a desire to do the interview without the condition of anonymity, but knew that was impossible if he wanted to keep his job. In the unused footage Orth described in Vulgar Favors, it was even more clear how negatively Trail was affected by the enforced secrecy. "When I sit down and think about it — I torture myself. I'm between a rock and a hard place," he said, adding later:
The way I do it — I'm very closed about how I feel. I'm very protective of my emotions, and I try not to be very emotional about anything. I tend to disassociate myself. I'm very good at putting the blame on other people and not myself.
Shortly after Trail's death in 1997, his friend Michael Williams spoke to the San Diego Reporter about him. He had nothing but good things to say, praising Trail's bravery in speaking to 48 Hours and mentioning work Trail had done for the gay community with the safe sex program Project Lifeguard. Williams remarked that Trail was "almost like a brother to me," adding that he felt Trail "had it together" and "had a lot to look forward to."
Cunanan's reason for killing Trail is uncertain to this day. Their friendship had always been one of ups and downs, with a New York Times article indicated that Cunanan was upset when Trail moved from San Diego to Minneapolis. Town & Country discussed some conflicting opinions on whether or not Cunanan and Trail had been involved romantically (Trail's family reportedly denies this), which could have increased the tension between them if it ended badly.
It's possible that Cunanan had feelings for Trail that he did not return, as friend Jon Wainwright told Vanity Fair, "There was some strange bond there between Andrew and Jeff. Andrew would hook up people for J.T. It was kind of strange, actually. My belief is that Andrew was very infatuated with Jeff."
Some acquaintances of both also told Vanity Fair that Cunanan was trying to get Trail involved in his illegal drug dealing, which may have caused trouble between them as well. Due to Trail's murder and Cunanan's subsequent suicide (after killing four more people), there can never truly be an explanation for what happened. The Assassination of Gianni Versace may extrapolate based on existing information, but no concrete answers can be found.
Check out Romper's new video series, Romper's Doula Diaries:
Watch full episodes of Romper's Doula Diaries on Facebook Watch.