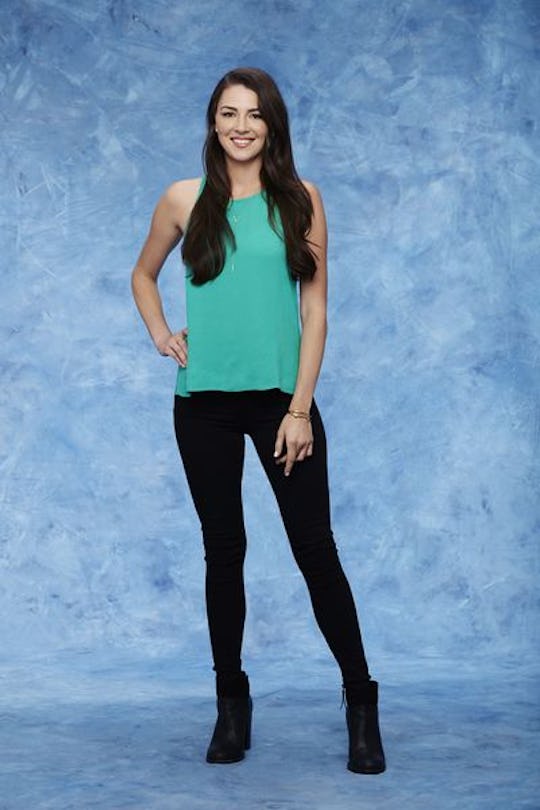 ABC/Craig Sjodin
Who Is Jen Saviano From 'Bachelor In Paradise'? The Blogger Is Very Well-Rounded
Lately, there have been too many surprise men showing up on Bachelor In Paradise and nowhere near enough women popping back up into our lives. Luckily, though, that is about to change when Jen Saviano returns to TV and our hearts. But who is Jen Saviano from Bachelor in Paradise, you ask? You may not remember her from Season 20 of The Bachelor, even though she did pretty well on the show. But, if you don't remember her/ don't follow her, I suggest doing so right now, because her tweets are gold most of the time and make you wonder why Ben Higgins ever let her go.
Aside from being cut on The Bachelor, Jen runs an inspirational blog, owns an online clothing boutique, and tends to say what we're all thinking whenever she tweets. Calling her a regular person would be fair, if she wasn't also super gorgeous and charming. So let's just call her a breath of fresh air in Bachelor Nation and welcome her with open arms to Bachelor in Paradise when she finally shows up this season. If you'd like to know about her fate this season, feel free to head here, but be forewarned that it is too spoiler-y for the faint of heart.
But before we meet Jen again on Bachelor in Paradise, let's take a look at who she is these days.
She's A Lifestyle Blogger
On Jen's website, Miss Lifestyler, she writes about anything from food and traveling, to relationships and being on reality TV. She has found a way to bank on her experience on The Bachelor in the way of her website, and it's totally working for her. The blog also serves as a spot for her to post DIY projects, a la Pinterest, and give you life advice.
She Values Her Family
Finding some fame, however small, from being on reality TV can make your head entirely too huge for your body. Then again, if you have the kind of family to keep you grounded and remind you where you came from, the dangers of big headedness are much less severe. Such is the case with Jen, who obviously values the relationships she has with her family and has taken to Instagram and Twitter to brag about a perfect tiny baby niece over and over and to post photos of herself with her family.
She Knows How To Use Instagram Right (For Photos Of Food Obviously)
Jen obviously knows the value of a good pairing of wine and pizza and the dilemma of trying to choose the perfect donut to gorge on. So she uses Instagram to document all of this, which you've got to love her for.
She Was On The Most Recent Season Of The Bachelor
She wasn't known for being super crazy, or for wearing a unicorn mask on her entire head when she stepped out of the limo on the first night, but during Season 20 of The Bachelor, Jen obviously made some kind of impression, because she almost lasted until the hometown visits. And in the Bachelor world, that's kind of a huge deal. Getting shafted for a rose is no fun though, and when she was eliminated in the week five ceremony, she was understandably crushed.
She Runs Her Own Online Clothing Store
If her Instagram and blog are full of posed model shots of her it's not because she has broken down and become the model that almost everyone from The Bachelor and The Bachelorette ends up becoming. Instead, it's because she's showcasing outfits and dresses from her own online clothing store, Hot Pink Hanger, or showcasing pieces from fellow clothing stores. The best part about her collection of clothing, accessories, and jewelry though, is that it is all affordable. Most of the dresses are under $50 and even the handbags are legit.
Jen Saviano may have been cut from love on The Bachelor, but she's getting her second shot at reality TV matchmaking this season on Bachelor in Paradise.