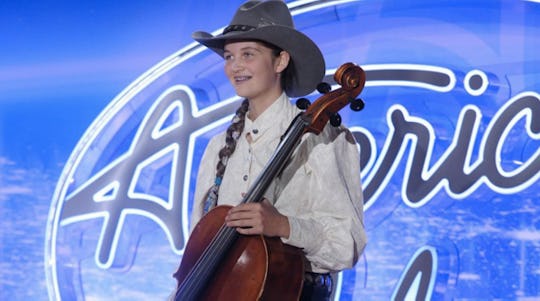 Who Is Jeneve Rose Mitchell? The 'American Idol' Contestant Is 15 & Lives Without Electricity
This teenage girl spends her time training horses rather than following what's happening on Twitter. And it's exactly that off-the-grid style that had Season 15 American Idol fans wondering exactly who is Jeneve Rose Mitchell? Mitchell, 15, impressed judges on the premiere of American Idol on Wednesday night with what Harry Connick Jr. called a "crazy, funky" sound. Accompanied by her cello, this cowgirl came in horns blazing with her rendition of The Band Perry's country song, "Chainsaw."
Mitchell who was homeschooled and lives in the elk wilderness of Crawford, Colorado, admitted in her audition that, while living off the grid, she doesn't have electricity. When pressed by the judges, she explained that she has to crank a generator twice a week in order to get enough power to rev up her TV to watch American Idol.
Playing music and training horses is how this teenager spends her free time in the mountains. Not only do her nearest neighbors live six miles away, she told Fox411, "I am not a stereotypical teen. I don't use my phone that much or play video games." Instead, she taught herself how to play string bass, violin, cello, banjo, guitar, and harp. I just hope Mitchell stays on Idol long enough for viewers to hear her play all of these instruments.
But now that Jeneve Rose is going to Hollywood, will she be forced to get on the grid? Whether she's ready or not, Twitter has taken notice of her. Time to crank up the generator, I guess.
See Jeneve Rose Celebrate With Her Family
Moments after Mitchell received her golden ticket to Hollywood, the show tweeted this picture. Love the daddy-daughter matching hats!
She Shared Gratitude With Fans, But It's Hard Without Electricity
A couple days before the show premiered, Mitchell must've cranked up the generator, because she sent out this message to her fans.
Ryan Seacrest Tweeted About Her
Even if Mitchell can't tweet that much, Idol's main man, Ryan Seacrest will do it for her.
Fans Love Her Cello Skills & Her Cowgirl Style
From the moment Mitchell took the stage, fans took notice, pointing out how boss her cello skills were, and giving her props for her cowgirl style. Who knows if Mitchell is getting the message, but I have a feeling Idol fans have only seen a little bit of what this cowgirl can bring.
According to Fox411, Mitchell grew up singing. "I really feel like I connect with people when I am on stage," she said. "That makes up for all the time that I am alone."
Now that you're on Idol, girl, I've got a feeling you're not going to be alone — at least as long as you're on the show, and from the looks of tonight, I'd gander that's a while. Not that Mitchell minds being alone — another thing about this gal that makes her an early favorite.
Image: FOX; Athena Lucia Peters/YouTube