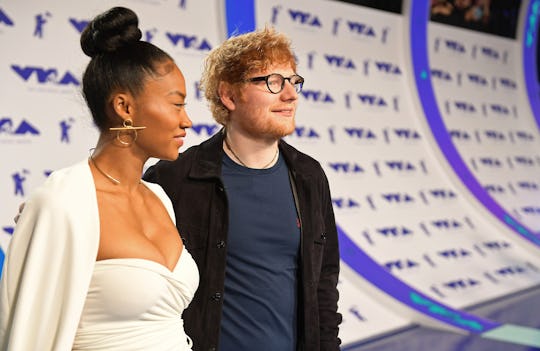 Matt Winkelmeyer/Getty Images Entertainment/Getty Images
Ed Sheeran Brought A Date To The VMAs, & You've Definitely Seen Her Before
Ed Sheeran showed up with a very recognizable face at the MTV Video Music Awards on Sunday night, but some people may be having trouble remembering exactly where they've seen her before. If you find yourself wondering who Jennie Pegouskie is as you watch the 2017 VMA pre-show, you're not totally alone. But you're going to want to get to know her, quickly, because she's definitely going to be gracing all of your screens a lot more in the near future.
Pegouskie plays the lead in Sheeran's video for "Shape Of You," which he's likely performing at Sunday's award ceremony. In the video, Sheeran plays a boxer who tries to make eyes at her in the gym. When she accidentally slams his face in a locker, they strike up a romance to the tune.
Pegouskie is a model, dancer, and actress, but she was also originally hired to work as a production assistant on the video. Her main gig? Trying to find the lead to play opposite Sheeran. This is starting to feel like almost more of a meet-cute than the fictional one they have in the video.
The Seattle local told NBC, "We had a ton of great girls, ton of great girls." But Sheeran said he liked her look and asked her to sign on as the star of the show.
Like a true pro, she was mainly concerned about switching roles on set so quickly. "I knew that there was a lot to do still, and I didn't want to leave the team hanging," she told NBC.
But starring in an Ed Sheeran video is not something one passes up, especially since his singles tend to climb the charts very quickly. "Shape of You" was no different — it's spent 10 weeks on Billboard's Hot 100 since its release.
Pegouskie is no stranger to the music scene. She's been touring with Macklemore and Ryan Lewis as a dancer for nearly four years, but this lead role in a video is a whole new thing for her. The 29-year-old told NBC of the experience, "It was all so fast that I just took it and ran with it and did the best I could."
Apparently, there was immediate chemistry between her and the chart-topping Sheeran. She added in her NBC interview:
The entire time Ed and I are just having a conversation about life you know? We didn't have an actual script. He is such a gentleman. Between scenes and every time we'd cut he would throw his jacket on me.
Of course he did. Lest you get the wrong idea, Sheeran is still dating his girlfriend Cherry Seaborn. He's just a nice guy and willing to share the fun of the VMAs with the star of his video. This is an awards show just for the videos, after all.
"I feel so lucky every single day. It doesn't feel like it's real life some times," Pegouskie told NBC of her newfound fame.
With all of her talent, it's likely that Pegouskie will be scooping up more roles and gigs very soon.