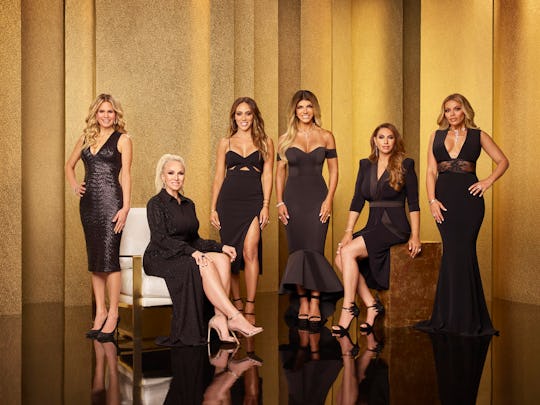 Tommy Garcia/Bravo
Jennifer Aydin Is One Of The New Cast Members Of 'RHONJ' Season 9
A new season of The Real Housewives of New Jersey is about to begin, which means some casting changes will be shaking up the show's status quo. Nearly all the Housewives from Season 8 are returning for Season 9 (with the notable exception of Siggy Flicker), but there will be two new additions as well. Margaret Josephs' friend Jackie Goldschneider is joining the show, as is Jennifer Aydin. But who is Jennifer Aydin on RHONJ?
Jennifer also has a connection to an existing Housewife; in this case, she's friends with Teresa Giudice's cousin Kathy Wakile. Jennifer is married to plastic surgeon Dr. Bill Aydin, with whom she has five children. The oldest is 13, while the baby of the family is five. According to Jennifer's Bravo bio, her youngest starting school inspires her to "break out of her traditional role as homemaker and mother, challenging the roles she and her husband have subscribed to for their entire relationships [sic]." Family is important to her, and her Bravo bio states that she comes from a traditional Turkish background. During Season 9, she'll help arrange her brother Michael's marriage, which causes drama with the other cast members, presumably because they don't approve.
Ahead of the premiere, Jennifer shared some details about her life with Bravo, including what her previous jobs were and the professional dreams she had as a child.
Jennifer revealed that she grew up in the jewelry business, and even opened up her own jewelry store after college. She closed it when she got married and started her family. But being a storeowner wasn't always Jennifer's dream. As a teenager, she actually wanted to be an actress — and she almost made it happen, too. Jennifer explained:
When I was 16, I convinced my mom to take me on an audition. She didn't think I would get it so she took me kind of just to shut me up, more or less, and then when I ended up getting the gig, she was so nervous. She wouldn't let me do it and she said, you know, if you do this and you're an actress, you're never going to get married, you're never going to have kids ... it's going to be shame and she blocked it, right then and there.
Though Jennifer wasn't able to pursue an acting career, she didn't keep away from the field entirely. She had her own Turkish cooking show for a time, and episodes can still be found on YouTube. Plus now she's a Real Housewife, which involves just as much drama as any play by Shakespeare.
Margaret spoke to People about Jennifer, and how they didn't quite get along during the season. Jennifer is very traditional while Margaret is very liberal, which seems to have caused some friction between them. "But we do wind up making up and fighting, but we have a little bit of a different value system," Margaret said. Still, she encouraged the new cast members to remain authentic and be themselves.
It sounds like Jennifer will deal with some ups and downs when it comes to making friends with the rest of the women on RHONJ.