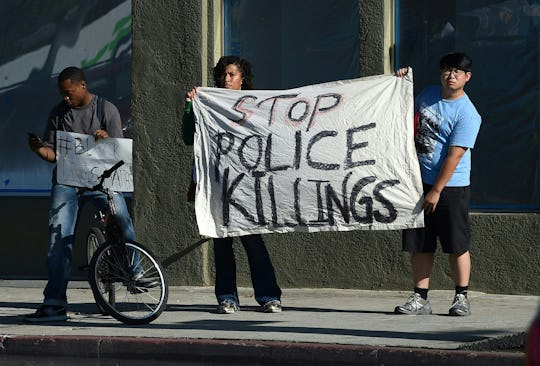 ROBYN BECK/AFP/Getty Images
Who Is Jeronimo Yanez? The Cop Who Shot Philando Castile Has Been Identified
The country was still reeling from the news that Louisiana man Alton Sterling had been shot dead by police early Tuesday when news broke that 32-year-old father Philando Castile had also been shot and killed by police in Minnesota during a traffic stop for a faulty tail light. And, when Castile was shot, his partner and her 4-year-old daughter were in the car. Who is Jeronimo Yanez? The police officer who reportedly shot Castile while he sat in the driver's side seat of his car has been publicly identified, according to CNN.
Castile and his girlfriend, Diamond Reynolds, were pulled over Wednesday by two officers from the St. Anthony Police Department, Officer Jeronimo Yanez and Officer Joseph Kauser. After approaching the driver's side of Castile's car, and requesting his license and registration, Castile told the officer that he was carrying a firearm — one which Reynolds said she informed Yanez he was licensed to carry, according to CNN. As Castile reached in his back pocket for his license, Yanez allegedly shot Castile a number of times at point-blank range. He was announced dead later that evening.
After Castile was shot, Reynolds — seemingly not yet realizing that her partner was fatally wounded — started filming the incident on Facebook Live using her cell phone. While Castile is slumped in his seat in a blood-soaked t-shirt, Yanez's gun still pointed at him through the rolled-down window, she calmly explained what had happened, and told the officer, "you shot four bullets into him, sir."
While filming, Reynolds was told by Yanez, who sounded agitated, to keep her hands in the air. She replied, "I will, sir, no worries. I will," and Yanez could then be heard yelling, "I told him not to reach for it. I told him to get his hand off it."
Although Yanez's face couldn't be seen on the video, the Minnesota Department of Public Safety Bureau of Criminal Apprehension (BCA) released his and Kauser's name to the public Friday, according to The Daily Mail. Twenty-eight-year-old Yanez has been an officer with the St. Anthony Police Department for the past four years, but is now on paid administrative leave pending an investigation. The Department has not responded to Romper's request for comment regarding the shooting.
Details about Yanez are still scarce, although The Daily Mail noted that now-deleted accounts linked to Ynez on wedding site The Knot and its related pregnancy site The Bump suggested he was married to his wife in November 2014, and that they welcomed a child together on August 4, 2015. Yanez appears to have no prior criminal record, other than a few minor traffic violations. Castile's death is reportedly the first officer-related shooting in the St. Anthony Police Department in 30 years.
Later on in the video footage shot on Reynolds' phone, she and her daughter can be seen sitting in the back of a squad car, with Reynolds overcome with grief having realized that Castile was likely not going to make it. As she wails, her young daughter can be heard beside her, saying, "It's OK, Mommy. I'm right here with you."
Castile's mother, Valerie, shared with CNN following her son's death that she had spoken with her son and daughter earlier that day, and that they had actually discussed the risk of carrying guns, as both of her children had concealed carry permits. Valerie recalled her daughter saying, "I really don't even want to carry my gun because I'm afraid that they'll shoot me first and then ask questions later." She also told CNN that she had always been upfront with her son about being cooperative with police.
[I told him] 'If you get stopped by the police, comply'. Comply, comply, comply...My son was a law-abiding citizen, and he did nothing wrong. He's no thug. I think he was just black in the wrong place.
Castile was a supervisor in the nutrition services department of St. Paul Public Schools, and had been working for the department since he was 19, the school district said in a statement. According to his colleagues, Castile was "a team player who maintained great relationships with staff and students alike," and who "had a cheerful disposition...quick to greet former coworkers with a smile and hug."