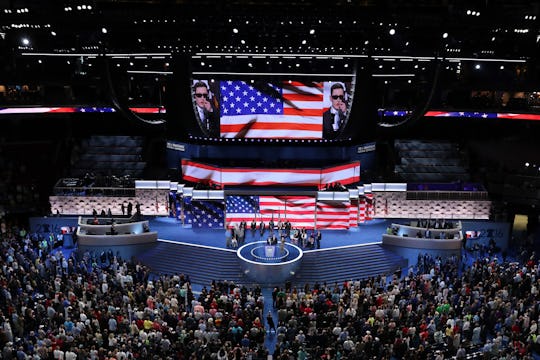 Chip Somodevilla/Getty Images News/Getty Images
Who Is Jerry Emmett? The 102-Year-Old Arizona Delegate Just Made History
When Jerry Emmett was born, women did not yet have the right to vote. But the centenarian made history on Tuesday when she took the microphone at the Democratic National Convention and cast Arizona's 51 votes for Hillary Clinton. For Emmett, voting for the first female candidate from a major party for president was a dream come true. Who Is Jerry Emmett? With her fist raised to the air, the 102-year-old delegate proudly proclaimed Arizona's votes for the next president of the United States.
Emmett, who grew up during the 1930's and had to wait tables as a teenager to work her way through college, has been a lifelong Democrat. She pledged her allegiance to the party after seeing Franklin Delano Roosevelt pull America out of the Great Depression. Emmett has held her support for the party through world wars, space missions and terror attacks.
"Oh, I never thought I'd see a woman in a presidential election. When I was growing up, women could be teachers, secretaries or nurses — and my mother was snubbed at our church for working at all. That a woman would have this role in the political process …" she told Arizona Central, trailing off.
Emmett is passionate about tax reform, health care and childhood education.
"I surely didn't plan to live past 100 years old," she says. "When I did, and I saw all these things that were happening, it was like I had a shot in the arm," she told the Phoenix New Times.
Emmett, who sports a puff of white hair, is blind and cannot hear very well, is still very politically active, and discusses topics ranging from minimum wage to taxes. Emmett has participated in campaigns for as long as she can remember.
"I just like the philosophy of the Democratic Party. I believe in it," she told the Phoenix New Times. "I had to depend on other people to help me get an education, to help me get through college."
While she's been to numerous elections and supported several candidates, this year is different.
Emmett has been a fan of Clinton's for decades. She even organized Arizona's fan club for the candidate when she was still First Lady. Emmett has a whole room dedicated to Clinton in her home, filled with buttons, flyers and photos of the candidate.
"I'm strictly joined at the hip to Hillary Clinton, and I've admired her all of her life," Emmett told The Phoenix New Times.