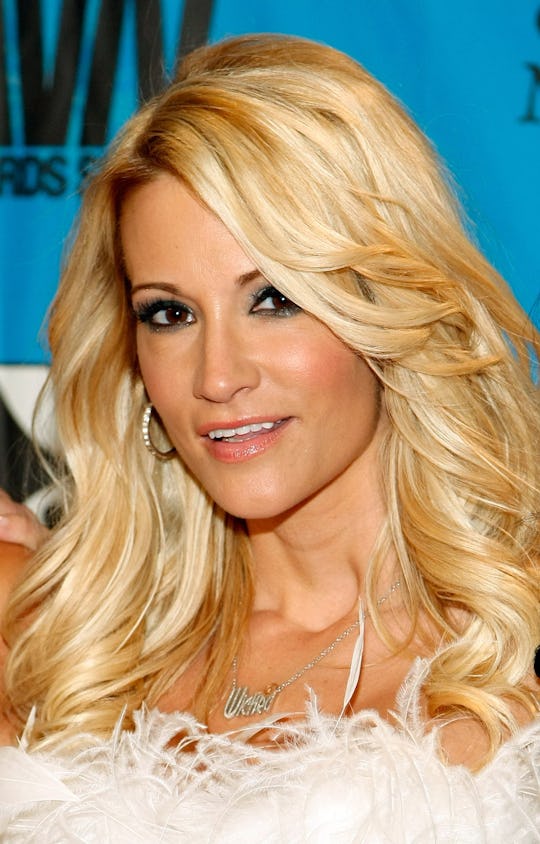 Ethan Miller/Getty Images Entertainment/Getty Images
Who Is Jessica Drake? An Eleventh Trump Accuser Steps Forward
The growing group of women who have accused Republican presidential nominee Donald Trump of sexual assault has been joined by another voice. Citing an incident 10 years ago, the woman told reporters at a Saturday press conference that Trump was inappropriate with her and others. So who is Jessica Drake? The eleventh Trump accuser is an adult film actress who first met him in 2006 when he allegedly approached her at her company's booth while participating in a golf tournament. (Romper reached out to Trump's representation, but did not hear back at the time of publication.)
Supported by attorney and Clinton supporter Gloria Allred, Drake alleges that Trump invited her to the penthouse where he was staying after the tournament. Bringing friends along with her because she "didn't feel right going alone," Drake recalls that Trump allegedly "grabbed each of [the women] tightly in a hug and kissed each one of [them] without asking permission." After an estimated 30 to 45 minutes of Trump supposedly asking personal questions such as "details on [Drake's] job as an adult film star — about shooting porn...and about [the women's] personal relationships and whether [they] were married or single," Drake says that the women left his room.
Upon the women's leaving, Drake was allegedly invited back up to Trump's room, which she says she refused. Then, he allegedly called Drake, inviting her to dinner and a party, ultimately asking her: "What do you want? How much?" Drake says that she declined his offer, saying that she was supposed to return to L.A. for work, telling reporters: "I said that as an excuse because I didn't want him to continue asking me, and I didn't want to be with him." Next, she received another call, "from either Donald, or a male calling on his behalf," offering to give her $10,000, which Drake declined another time. Finally, Drake was allegedly offered use of Trump's private jet, in the event that she join him privately. Drake says that she informed close friends about the incident immediately after-the-fact, but hasn't disclosed their identities "out of respect to the other parties involved and their families."
Whereas Trump has attempted to write off prior accusers for seeking fame, money, and opportunity, Drake emphasizes that her reasoning is much more sincere. Ultimately, Drake worries about Trump's fitness to be president, saying:
"Collectively, his words and his actions are a huge testament to his character, that of uncontrollable entitlement, misogyny and a sexual assault apologist. This is not acceptable behavior for anyone, much less a presidential candidate."
As an actor, writer, host, and director in the adult film industry, Drake has chosen to use her notoriety to tell what she believes to be an important story, hoping to bolster the claims of Trump's 10 other sexual assault accusers. Though on record Trump has bragged about sexually assaulting women, he continues to claim that all of his accusers are lying, even promising to sue them after the election is over.