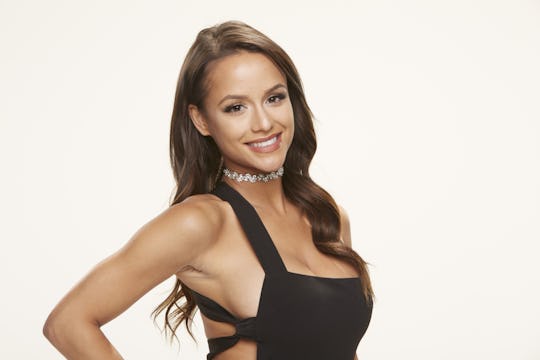 Sonja Flemming/CBS
Jessica Graf From 'Big Brother 19' Knows What She Wants
Summer is officially here, which means it's time for an all new season of Big Brother, and with a new season comes new houseguests. Season 19's houseguests are a mix of diverse and interesting people, including Jessica Graf. So who is Jessica from Big Brother 19? She's a VIP concierge.
The 26-year-old is originally from Rhode Island, but currently lives in L.A. working with people who have "high demands" as a concierge, as she said in her meet the cast interview. She also said she'll use the "people pleasing" skills she's gained from her job to help her in the house. According to Jessica's Big Brother bio, she considers herself to be honest, loud, and loyal. She loves "going out to eat long meals with great people," and is not looking forward to giving up her summer of travel to "share a toilet with 15 other people." (I mean, fair point.)
When asked who her favorite Big Brother cast member is, she chose Janelle Pierzina, who came in third during Season 6 and 7 and twelfth in Big Brother 14, when she returned as a Coach. "We have very similar personalities," Jessica said in her bio. "I see a lot of her game play in me."
Jessica's strategy right now is "to find the best male competitor in the game" so they can team up and win — but during her cast interview, she said she's not looking for a showmance. "I'm here for the money, I'm here to not only win. But I want to win so that if Big Brother does an All-Star season, I can do back-to-back seasons and then win back-to-back seasons," she said. "And that's never been done for."
Jessica wishes she could bring her dog, Instagram, and a makeup artist into the house with her. Some fun facts about Jessica is that she's lived in eight states, loves doing yoga, is "very nocturnal," loves making people laugh, and her boobs are real (yes she really stated that in her bio).
During her cast interview, Jessica said she'll be the "whole trifecta," using her physical and mental strengths along with her social game to win. She also said she plans on being the "life of the party" in the house, so no one will want to vote her out.
You can meet Jessica and the rest of the Big Brother 19 cast when the show premieres on CBS at 8 p.m. ET on Wednesday, June 28.