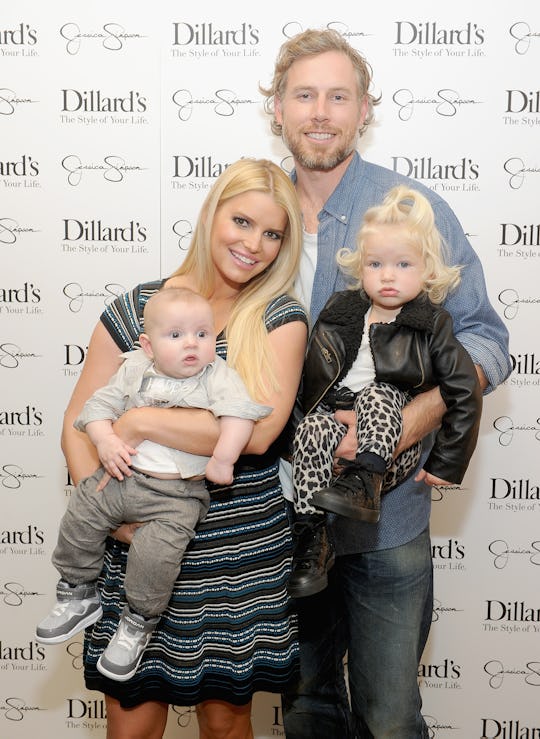 Jamie McCarthy/Getty Images Entertainment/Getty Images
Everything You Need To Know About Jessica Simpson's Husband As The Couple Expects Baby No. 3
Whether you listened to her music, bought her shoes, or witnessed the triumphs and challenges of her first marriage, Jessica Simpson has been a cultural icon for decades, and it's so exciting to watch her grow up and start a family of her own. Most recently, Simpson announced that she was pregnant with her third child. But anyone not keeping up with the songstress and entrepreneur may be wondering: Who is Jessica Simpson's husband? Though she was famously married to Nick Lachey for a few years, Simpson has actually known her now-husband for almost a decade.
Simpson is married to Eric Johnson, who is a retired NFL player. Johnson played tight end for the San Francisco 49ers before he left in 2008, as E! News reported, and went on to study at the University of Pennsylvania's Wharton Business School, which is, of course, an Ivy League institution. However, he met Simpson while in school and left shortly after, as Us Weekly reported that he didn't want to be so far away from her.
Johnson soon after moved to L.A., according to Us Weekly, and has been with Simpson ever since. It's not been disclosed what Johnson does professionally now, but it's not unreasonable to assume he assists with his wife's mega-million dollar empire.
Earlier this year, Simpson announced that she and Johnson were expecting their third child, a daughter, to join their other kids: 6-year-old Maxwell and 3-year-old Ace. "This little baby girl will make us a family of five," Simpson wrote on Instagram. "We couldn't be happier to announce this precious blessing of life."
Back in 2013, Simpson appeared on The Tonight Show with Jay Leno to talk about her relationship. Specifically, she opened up about how though she and Johnson had planned two separate wedding dates, neither ended up happening because each time, she got pregnant.
"We're doing it very backwards, I know... I'll just keep my legs crossed, I guess, this time," she joked, as E! News reported. "He keeps knocking me up!" Simpson continued to say that she had not planned either of her children, but considers them great blessings, ones she was more than happy to welcome into her life.
"Apparently it was a part of God's plan for my life," she added. "I was extremely shocked... because I was going through a lot of hormonal changes, trying to get back to the old, vibrant Jessica. You know, it was kind of like a one-night stand. And it happened, all over again!"
The couple did eventually get married back in 2014, in what E! News reported to be a 4 day, $1.4 million event. Now, four years later, Simpson says that she and Johnson are more in love than ever. "He keeps me hot," she told Entertainment Tonight before sharing that as well as having a happy marriage, Johnson is an amazing father, and stays super involved in Maxwell and Ace's lives. "He's always throwing around the kids, and he's just an amazing father, it makes me want to stay young... Like how can you be so active? I mean watching the kids running makes me exhausted."
Back in September, Simpson somewhat foreshadowed her third pregnancy as People reported she said she and Johnson would "always practice" having another, and that if and when they did get pregnant, they would consider it a "miracle."
It's pretty heartwarming to see it all come to fruition now, and exciting that the family will be adding another little person to their brood. For now, Simpson and Johnson will have to just keep inspiring us on how to keep it hot even after being in a relationship for almost a decade.