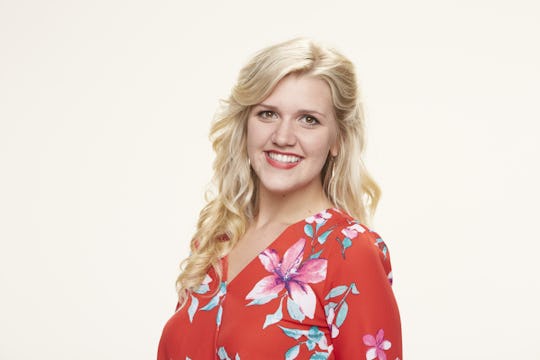 Sonja Flemming/CBS
'BB19's Jillian Parker Isn't Afraid To Speak Her Mind
One of the hardest things about being in the Big Brother house and being on camera around the clock is... well... being on camera around the clock, knowig that people are constantly watching what you say. Eventually, many people end up letting their guard down in such a way that it could negatively impact their votes. Naturally, it's normal for there to be slip-ups and questionable late night talks between houseguests — and contestant Jillian Parker knows how real it's going to get. But who is Jillian Parker from Big Brother 19?
The houseguest isn't afraid to speak her mind, according to her Big Brother 19 bio, and of all things, that's going to be the hardest part for her when it comes to living in the Big Brother house. "The most difficult thing for me will be watching what I say because I'm on TV 24/7," Jillian said in the bio. "I have a lot of opinions and I'm very expressive, so I'll want to try and make sure I don't say the wrong things in front of millions of people! If I do slip, oh well. It is what it is."
You kind of have to give her credit for the candid attitude though, especially since she'll need to keep up that mentality if she doesn't want to spend all season as an emotional wreck. Because yes, that can happen.
Jillian definitely knows what she's doing going into the house though. In her interview with Jeff Schroeder, Jillian said that before she even thinks about getting involved in a showmance, her plan is to "feel people out" and figure out where she stands with everyone before getting into a showmance, even if being tied to someone else can sometimes strengthen your game.
The 24-year-old timeshare saleswoman from Las Vegas doesn't seem to have much going on on social media, but Jillian did have an active YouTube account in 2013 with exactly two videos, both of which show her covering Whitney Houston songs. So there's that.
She also said in her Big Brother bio that her strategy is to "come in, play it nice and innocent, and get in with the girls and the guys at the same time." She added:
I plan on making my main alliance with the guys, which no one will expect. Then, I'd give them information from the girls. I plan on flying under the radar and, later on, revealing myself as a big villain towards the end of the game making a few BIG moves.
Calling yourself the Big Brother villain before the season even starts is pretty bold, but obviously that's her game. Even if her mouth might get her in trouble with not only viewers, but her fellow houseguests, it also seems like Jillian is already fully in control of the game she plans to play in the Big Brother house. And going into it all, that's half the battle.