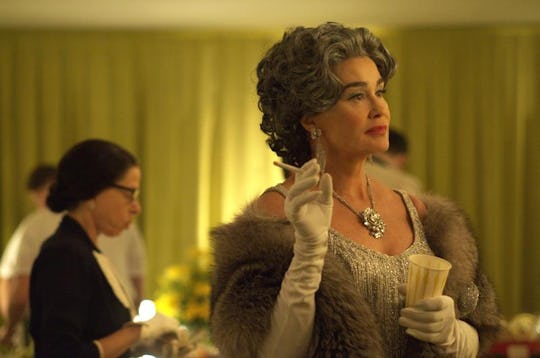 Suzanne Tenner/FX
Joan Crawford Had Tense Relationships With Her Family
Though the central story of Feud's first season deals primarily with the antagonistic rival relationship between Hollywood screen legends Bette Davis and Joan Crawford on the set of What Ever Happened to Baby Jane?, it's been equally intriguing to get hints of the main subjects' relationships with others. In particular, the tumultuous personal relationships of both Davis and Crawford with their various family members would seem to warrant entire Feud seasons on their own. One example of that is Crawford's tense relationship with her brother. But who is Joan Crawford's brother?
Hal LeSueur was the older brother of Crawford (born Lucille LeSueur, before adopting the stage name that would remain hers for the rest of her career). As has been repeatedly hinted at throughout the season, Crawford grew up poor, and Davis' repeated references to her rival as "Lucille" are a way for Davis to insult Crawford and her upbringing. According to Biography.com, Crawford and LeSueur's father abandoned the family around the time Crawford was born. Their new stepfather, Henry J. Cassin, also gave Crawford her first nickname and stage name — Billie Cassin. The third sibling, LeSueur and Crawford's sister, was Daisy.
For a time, Crawford's brother worked as an actor, appearing in minor, uncredited roles in a variety of MGM films throughout the '30s, '40s, and '50s before trying his hand at doing makeup for the film studio for awhile. Despite the fact that they shared a profession — one that Crawford was, obviously, much more successful at — the siblings were not close. At times, they were estranged, and Crawford in particular spoke poorly of her ne'er do well brother in various interviews.
LeSueur died of a ruptured appendix in 1963, after an eight-day stay in the hospital. During that time, Crawford did not visit him and after his death, she did not attend his funeral, according to LeSueur's Los Angeles Times obituary, which also noted that Crawford "had sent her brother telegrams in the hospital" during the illness preceding his death.
LeSueur even made explicit reference to his estrangement from his sister in a 1954 interview: "For personal reasons I must refrain from saying why I never see my sister. I don't feel it's the proper time to talk."
Crawford was less coy about their bad relationship after her brother's death. In Conversations with Joan Crawford, the actress referred to her brother as "chronically mean," calling him "bad news, all the way around" and describing that he'd showed up, drunk, at her house after she'd hit the big time to inform her that he was going to live with her. "Hal was a louse, an out-and-out bastard. He could charm the skin off a snake, but nothing, not his jobs, not the men and women in his life, lasted long," Crawford said. "Liquor, then drugs, and always his distorted ego, took over. I supported that son-of-a-b*tch until the day he died."
Not much is known about Crawford's rough early childhood, but if her perception of her brother is any indication, there's definitely a reason why she wanted to separate herself from her past and could very well be an aspect of her life Feud will look to explore.