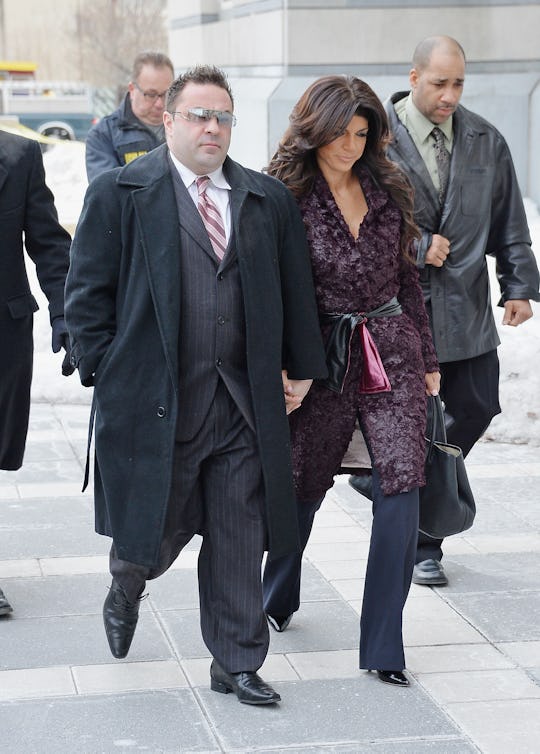 Mike Coppola/Getty Images Entertainment/Getty Images
Who Is Joe Giudice's Lawyer On 'Real Housewives Of New Jersey'? He Has Quite The Resume
The Real Housewives franchises are often about so much more than just the insular world of the Housewives themselves, and often feature a large supporting cast of friends, husbands, boyfriends, and family. One such character is the Giudice family lawyer, who's been making regular appearances lately, as he works with both Teresa and Joe while they served (and serve, respectively) their prison sentences. Now that Teresa has finally come home, Joe has just started to serve his 41 month sentence. So, who is Joe Giudice's lawyer? His name is James J. Leonard Jr., and he's got a very impressive record. He has defended hundreds of people over the past 15 or so years, some of them incredibly famous.
If Leonard looks a little familiar, that may be because this is not his first Real Housewives of New Jersey rodeo. Before he became Teresa and Joe Giudice's defendant, he was retained to handle the contract negotiations for Joe and Melissa Gorga when they joined the cast of The Real Housewives of New Jersey, as well as Rich and Kathie Wakile. He's also been retained by Rosie Pierri. As the family lawyer, James Leonard has actually appeared on the show several times, even before he began working with Teresa in the weeks before her scheduled prison stay. While his notoriety has certainly grown since Real Housewives, he'd worked with some pretty notorious figures before.
He has defended Angelina Pivarnick of The Jersey Shore on charges stemming from an altercation at a night club (what else), as well as another (unnamed) Jersey Shore cast member in their contract negotiations with MTV. He has even represented the son of "Atlantic City mob boss" Nicodemo "Little Nicky" Scarfo on racketeering charges. In fact, you can read about Leonard in the true crime book, Mafia Prince: Inside America's Most Violent Crime Family and the Bloody Fall of La Cosa Nostra, written by "Little Nicky"s nephew, "Crazy Phil," whose testimony led to his life imprisonment. I can't make this stuff up, you guys.
The Real Housewives of New Jersey may not be quite ready to morph into some sort of legal spin-off, but with Leonard's presence, at least we know that our favorite Housewives are in good hands.