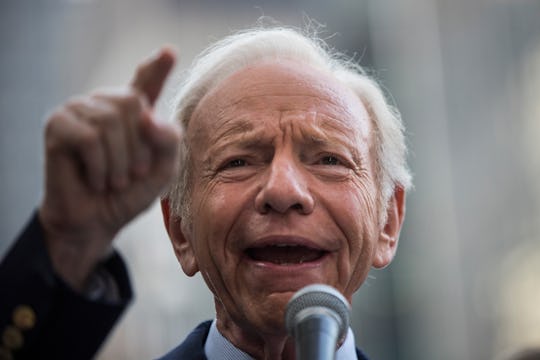 Andrew Burton/Getty Images News/Getty Images
Remember Joe Lieberman? He Could Replace James Comey
Lately, it seems as though the most effective way to measure time is to go by the number of scandals coming out of the White House. Basically, one scandal equals one day. Or something like that, anyway. But, for every scandal, there are numerous outcomes to follow. Take, for example, Trump's unexpected firing of FBI Director James Comey. News broke of Trump's decision last week, but Comey's position has yet to be filled; Now that the Trump administration is seeking out potential candidates for the new opening, one name in particular has at least a few people saying, "Huh?" So, for those who slept through the 2000 election or just plain forgot, who is Joe Lieberman? Al Gore's former vice presidential candidate and previous senator from Connecticut may be up for the position.
According to White House Press Secretary Sean Spicer, President Trump is "meeting in the afternoon with the ex-Connecticut senator and three other possible replacements for ousted FBI Director James Comey at the White House." The other potential candidates include acting FBI chief Andrew McCabe, former top FBI official Richard McFeely, and former Oklahoma Gov. Frank Keating. However, Trump's choice of Lieberman is perhaps the most perplexing. He is the only candidate without FBI experience or who isn't a devout Republican. In fact, Lieberman, 75, is actually an Independent now, but was a Democrat during the 2000 election.
If Trump were to choose Lieberman for the position, it would be a pretty stark break from his current administration's party ties: deeply conservative and very red. However, there is always the option that Trump is only entertaining Lieberman for FBI director to appease his critics, who have argued that his possible obstruction of justice in firing Comey is grounds for impeachment.
During his career as senator, Lieberman was a big advocate for restructuring the Department of Homeland Security, which Congress did following the 9/11 terrorist attacks. In the past, Lieberman has been staunchly pro-choice, opposed a constitutional ban on same-sex marriage, and has voted against increased oil drilling.
But a more progressive agenda doesn't necessarily mean Lieberman is free from scandal. As Vox reports, Lieberman is "now a lobbyist, who works for a law firm retained by Trump." So, yeah. He's not exactly free from any conflicts of interest.
However, none of this means that Lieberman would bring about a potential shake-up of the FBI. There has been no FBI director in history that has had a clear, blatant political agenda when taking the role, meaning that Trump's shortlist is quite unprecedented.
And Lieberman might not even take the job, even if it were offered. According to CNN, Lieberman told reporters that the news "was not sought after or expected." However, Trump's decision to interview Lieberman for the position is certainly interesting, whether or not it goes anywhere.