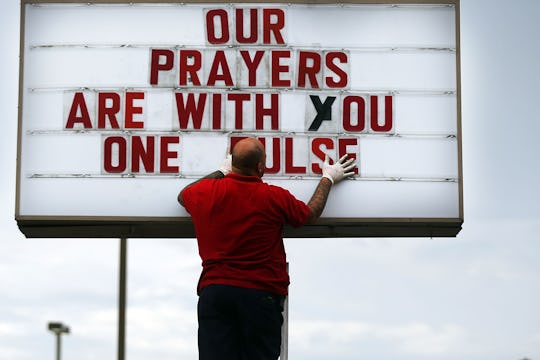 Spencer Platt/Getty Images News/Getty Images
Who Is Joel Rayon Paniagua? He Was Loved By Family And Friends
The tragedy of the Orlando, Florida shooting became all the more devastating once the names of the 49 victims were announced to the public. Each of them had stories, hopes, and dreams — which makes their deaths much more difficult to bear. Motivated by that loss and the hurt inflicted to LGBT communities everywhere, people have been organizing vigils and services since Sunday to show their support and convey their condolences. So who is Joel Rayon Paniagua? He was at Pulse nightclub on Saturday when a man with an assault rifle entered and opened fire on the crowded dance floor. He died on Sunday at age 31 and is sorely missed by family and friends, who remember him for his piety, humility, and good humor.
One of Rayon Paniagua's longtime friends, Lorena Barragan, spoke to the Orlando Sentinel about the night Rayon Paniagua was killed. She said that he had gone to Pulse to meet friends and spend another night dancing (one of his favorite things to do). Barragan had met Rayon Paniagua at church in a town just west of Orlando, Florida called Winter Garden. The two of them became fast friends. According to The New York Times, she said, "He was the best. He was loyal. He was always trying to do stuff to make you feel better." She appreciated his honest kindness. She added, "He was a very good friend." She said that the last time they spoke was not long before Rayon Paniagua went to Pulse nightclub late on Saturday.
The Orlando Sentinel reported that Rayon Paniagua was born and raised in Veracruz, Mexico, but moved in the early 2000s to Ocoee, Florida where his brother lived. Though he stayed for several years, according to Barragan, he returned after some time to Mexico to support his family and be near his parents and extended family. Recently, however, he had returned to the United States to take a job in construction. He lived in a suburb outside of Tampa, and Barragan said that he worked hard to make money and send as much as he could home to his family.
His cousin, Jose Paniagua, was interviewed by Newsday about the loss of his kind cousin. He said:
We came because here in the United States there are many opportunities here and because we were fleeing because in our country there was a lot of crime, violence and death ... and we expect it should be more peaceful here.
Unfortunately, that promise of opportunity and safety turned out to be false one, and in a flash of blind violence Rayon Paniagua was killed before his time. Though the United States is often seen as a haven, the events of this past weekend revealed that even safe-spaces are not safe.