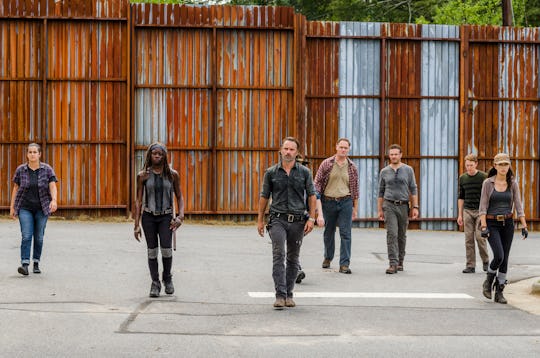 Gene Page/AMC
'The Walking Dead' Faced A Terrible Loss While Filming Season 8
Production came to a halt during filming of the eighth season of The Walking Dead after an accident on set caused serious injuries to John Bernecker that later resulted in his death. But who is John Bernecker from The Walking Dead? He was a stuntman who had worked in the business for many years, and the accident that led to his passing was considered to be a routine stunt. It involved a fight scene that ended with a fall from a balcony, but according to Deadline Bernecker stumbled and fell 30 feet to a concrete floor. He was taken to the hospital, where he unfortunately died shortly after due to blunt force trauma.
After the incident, AMC released a statement which read:
We are saddened to report that John Bernecker, a talented stuntman for The Walking Dead and numerous other television shows and films, suffered serious injuries from a tragic accident on set. He was immediately transported to an Atlanta hospital, and we have temporarily shut down production. We are keeping John and his family in our thoughts and prayers.
Later, a second statement followed:
John Bernecker's family has decided that he will be removed from life support following organ donation. We are deeply saddened by this loss and our hearts and prayers are with John's family, friends and colleagues during this extremely difficult time.
Deadline also reported that Bernecker's death was the first death in the United States related to a stunt in over 17 years. Though the job is undeniably dangerous, it has become less so with time and increased safety regulations. Entertainment Weekly confirmed that the Occupational Safety and Health Administration (OSHA) launched an investigation into the accident, as did SAG-AFTRA. Despite the delay in production, The Walking Dead Season 8 resumed filming after a few days and will premiere on Oct. 22.
According to Variety, Bernecker's mother hired attorney Jeffrey R. Harris and may file a lawsuit relating to the accident. "Accidents like that do not happen on a production without some mistake being made," Harris said. "That's a self-evident principle of law." Bernecker's accident wasn't the only one to have occurred on the set of The Walking Dead. In 2013, an extra playing a zombie was run over by a military truck but survived with minimal injury.
Bernecker was only 33 years old when he passed away, though he already had an impressive resumé. He'd worked on numerous films and television shows, including 22 Jump Street, The Hunger Games: Mockingjay, Scream Queens, and, most recently, Black Panther. After his death, many of his former co-workers commented on the impact he had on their lives. Actor Colby Boothman from Jurassic World referred to Bernecker as a mentor, and many cast members from The Walking Dead said they were keeping Bernecker and his family in their thoughts.
Showrunner and executive producer Scott M. Gimple also released a statement expressing his sympathy. "Our production is heartbroken by the tragic loss of John Bernecker," he said. "John's work on The Walking Dead and dozens of other other movies and shows will continue to entertain and excite audiences for generations. We are grateful for his contributions, and all of us send our condolences, love, and prayers to John's family and friends."
Gimple also paid tribute to Bernecker during The Walking Dead's panel at San Diego Comic Con, stating:
John passed away this week after he was injured doing something he loved: helping tell stories that excite, entertain, and give people escape. He helped make movies and shows for people like everyone in this room. John was someone who was beloved in the stunt community, who helped train people and helped them break into the business. He was living his dream, and he helped other people do the same.
Bernecker's death was a tragedy, but honoring his legacy keeps his memory alive.