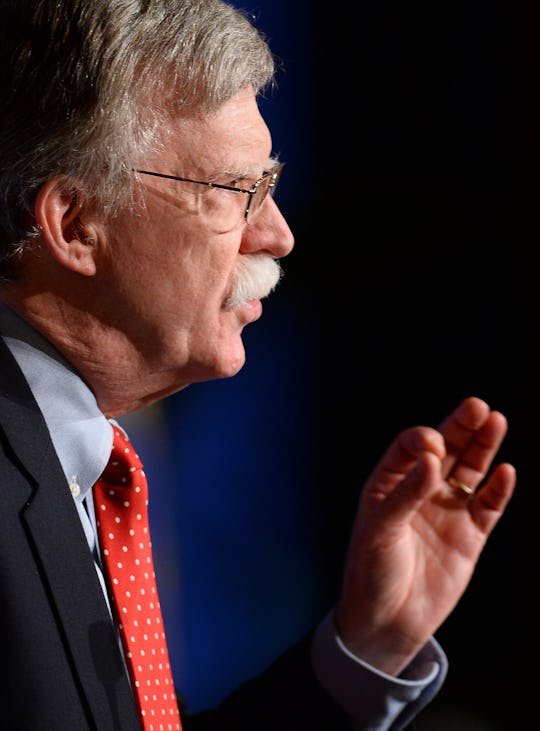 Ethan Miller/Getty Images News/Getty Images
Who Is John Bolton? He's Up For Secretary Of State Under Trump's Administration
As the White House transitions into a Trump presidency, many are rightfully curious about who is going to fill certain roles in Donald Trump's cabinet — most recently who will become the next Secretary of State, a role that is one of the most crucial to fill and will define much of the new president's agenda moving foward. Lots of names have been floating around, but aides to the now president-elect are reportedly narrowing down the list to two candidates: former New York City Mayor Rudy Giuliani and former U.S. Ambassador to the United Nations John Bolton. Some might already be aware that Giuliani is a longtime friend and ally of Trump, but others might be wondering: Who is John Bolton? The 67-year-old conservative diplomat has served in several Republican administrations and most recently called for the United States to bomb Iran last year.
According to The Wall Street Journal, Trump's final decision could still be several weeks away. In the meantime, it's important to get to up-to-speed on who might be the president-elect's chief adviser on foreign affairs.
The former ambassador has been in politics for decades and, as Matt Purple from Reason.com once regarded him, Bolton a "working-class guy from Baltimore with a Yosemite Sam mustache."
He's currently a senior fellow at the American Enterprise Institute, a conservative think tank in Washington D.C. where he researches foreign and national security policy. He's also a senior adviser for Freedom Capital Investment Management and a contributing commentator for Fox News, where he's shared his thoughts on the motives behind the Orlando shooting at an LGBTQ nightclub and what Trump's proposed ideas on foreign policy might entail.
Bolton started out as a lawyer before getting involved in politics, public policy, and foreign affairs, although he still serves as a senior counsel for Kirkland & Ellis in Washington D.C.
He's also a former U.S. Ambassador to the United Nations, but served less than two years after Democrats took over the Senate in 2007. Bolton has also had a rather tumultuous opinion about Russia — a country with which Trump has extensive alleged financial ties — and once speculated that Russia was responsible for shooting down a Malaysian plane over Ukraine in 2014.
Throughout his career, Bolton has been a loyal and staunch conservative and has been a strong critic of the United Nations, the worldwide organization that promotes international peace and cooperation on critical conflicts.
Back in 1994, Bolton said of the United Nations:
There is no United Nations... there is an international community that occasionally can be led by the only real power left in the world, and that's the United States, when it suits our interests, and when we can get others to go along.
It's not only the United Nations; According to The Chicago Tribune Bolton "deeply dislikes international organizations, whether the United Nations, the International Criminal Court, or the architecture underpinning nuclear test bans."
In an Boston Globe essay from last year entitled "The UN doesn't work. Here's a fix," Bolton wrote:
Washington should announce that, henceforth, all US financial support would be treated as voluntary rather than assessed... When international organizations — like businesses or private charities — have to demonstrate competence, efficiency, and effectiveness, they either perform or disappear. This would be an extraordinarily valuable lesson for the entire UN to learn. The United States should also never forget that withdrawal from certain UN agencies is an available option, as Ronald Reagan proved by leaving UNESCO.
If Bolton is nominated by Trump to be the next Secretary of State, he and the president-elect would have a lot to sort out as Trump has pledged to work peacefully, albeit controversially, with other countries. But who knows, Trump's abrasive demeanor and Bolton's hawkish political style might mesh well.
Trump has said before during a Meet The Press interview that Bolton is a "go-to" expert on national security and "he's, you know, a tough cookie, knows what he's talking about." If Bolton becomes Secretary of State, perhaps the two will learn to be chummy, regardless of their differences.