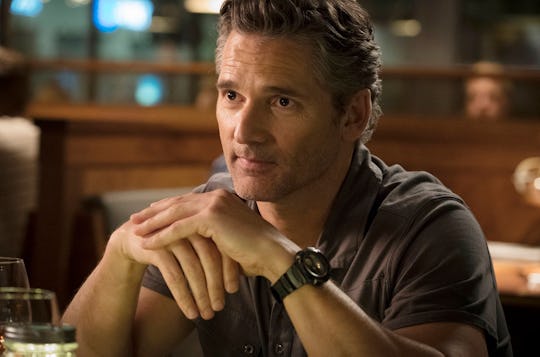 Nicole Wilder/Bravo
Everything You Need To Know About John Meehan From Bravo's 'Dirty John'
Bravo's miniseries adaptation of the true crime podcast Dirty John, based on the reporting of Christopher Goffard for the Los Angeles Times, premieres this November. But viewers who are tuning into the story with fresh eyes (and ears) may be wondering: who is John Meehan, the con man at the center of the story? Dirty John unspools the details of his epic grift.
Warning: Spoilers for the Dirty John podcast ahead.
John Meehan was a con artist who seduced a series of women using dating websites to scam them out of housing and money. But his final mark was a wealthy businesswoman named Debra Newell, who owned her own interior design business and lived in an affluent neighborhood of Orange County, California. The pair met on an over-50 dating website, where Meehan claimed he was a Christian father of two and an anesthesiologist who'd worked in Iraq with Doctors Without Borders. Newell, impressed with his background, found him both caring and incredibly charming, and soon moved him into a $6500-a-month condo in Newport Beach. They eloped two months after meeting but the whole relationship set off alarm bells with Newell's family. Newell later said that she sensed her own red flags, but ignored them because of all the good parts of the relationship.
Concerned for their mom's safety, Newell's daughters and nephew hired a private investigator to look into Meehan, who discovered that he'd previously filed for bankruptcy, had a nursing license rather than a doctor's license, had abandoned his previous relationship, and that he'd done a stint in the Orange County jail. In his reporting, Goffard later uncovered that Meehan had been married before, along with more of his family backstory.
According to his sisters, Meehan learned the art of the con from their dad, who ran a casino in San Jose. The family was also rumored to have mob ties, which Meehan leaned on heavily when making threats. In 1988, he graduated from the University of Arizona, then attended University of Dayton's law school, which is where he earned the nickname Dirty John for his generally shady behavior. He flunked out his second year and disappeared.
Once they were married, Newell eventually did more digging of her own, and discovered Meehan was "a former nurse anesthetist who became hooked on surgical painkillers and lost his career," according to the Los Angeles Times. Goffard reported:
From 2005 to 2014 — from about the time he got out of prison in Michigan for drug theft to the time he met Debra Newell in California — he had seduced, swindled and terrorized multiple women, many of whom he had met on dating sites while posing as a doctor, court records showed.
Of course, the entire sordid story ended when Meehan attacked Newell's daughter Terra in her apartment complex parking lot after her mom had left him. Terra managed to get ahold of the knife he was brandishing and stab him with it in self-defense. He died in the hospital four days later.
Needless to say, Bravo has plenty of narrative rope from this wild but true story to craft a remarkable series, and you can see how they fare when Dirty John premieres Nov. 25.
Season 2 of Doula Diaries shares the stories of fearless doulas helping their clients take control of their births and make tough choices that feel right to them. Watch the first episode of the new season Monday, November 26th.