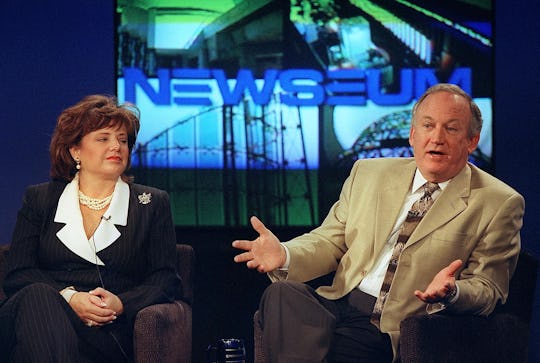 MARIO TAMA/AFP/Getty Images
Who Is John Ramsey Married To Now? JonBenet's Father Lives A Much Quieter Life Now
John and Patsy Ramsey presented a unified front in the wake of the murder of their daughter JonBenét, even with an immense amount of public scrutiny being thrown their way. In 2008, the Ramseys were exonerated in the death of JonBenét Ramsey through DNA evidence. The two stayed together until Patsy's death from ovarian cancer in 2006, and John eventually chose to remarry. But who is John Ramsey married to now?
John remarried to a fashion designer named Jan Rousseaux in 2011. Rousseaux is his third wife; he had been married twice before, to Lucinda Pasch and of course Patsy. John and Rousseaux supposedly met at a friend's wedding, and they were initially drawn together because of common interests. "She was cute and lively and she told me she liked The Office," John told People in 2012. "That was great. I love The Office."
Rousseaux had also been married twice prior and has several grown children of her own; John has three children from his first marriage (one daughter died in a car accident just five years before JonBenét's death), as well as son Burke from his second. Rousseaux also appears to be very religious, something else that she shares with John. They now run a promotional marketing company together in Las Vegas.
Before meeting and marrying Rousseaux, John Ramsey gained some public attention once again. In 2007, he began dating Beth Holloway Twitty, the mother of missing teenage girl Natalee Holloway. At the time they said they were only friends brought together by a shared understanding of tragedy, but after they broke up John spoke about what ended their relationship. "Beth was behind me in terms of the grief cycle," he said, though their split was apparently amicable; he has spoken of his respect and admiration for her as a person.
It looks like John Ramsey has been living a relatively quiet life after marrying Rousseaux, though all of the new attention being brought to JonBenét's case may change that.