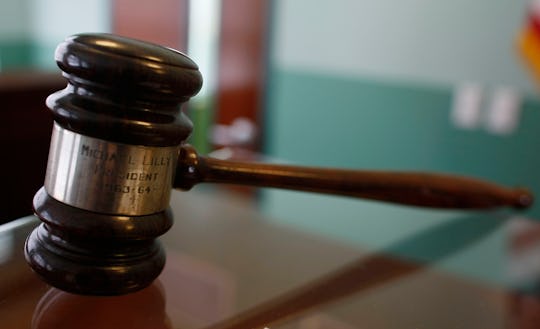 Joe Raedle/Getty Images News/Getty Images
Who Is John R.K. Howard? The 18-Year-Old Is Facing Some Seriously Disturbing Charges
It's always unfortunate to hear about alleged bullying occurring in high schools all across the nation. Unfortunately, that bullying can sometimes take a turn for the worse — and at a high school in Idaho recently, that bullying allegedly took a very dark turn, to say the least. After claims of sexual assault recently made headlines, people began wondering who student John R.K. Howard is and what he is being accused of.
According to Buzzfeed, Howard, a former football player and student at Dietrich High School in Dietrich, Idaho, along with two other teammates, is reportedly being accused of luring a black teammate into a locker room and allegedly sexually assaulting him. Howard appeared in court earlier in the week to plead not guilty to the charges. Howard's attorney did not immediately respond to Romper's request for comment.
According to the Idaho Statesman, Howard will be the only of the accused to be tried as an adult in the case, as he was 18-years-old at the time that the alleged crime occurred. According to Buzzfeed, a trial date for the student will be set next week. The other teammates charged in the attack were charged as juveniles. The allegations, as reported since by the media, are truly shocking, upsetting, and might be triggering to some readers.
According to the Times-News, in court documents and appearances, prosecutors have alleged that Howard "kicked a hanger into the rectal opening of a teammate" after another attacker "initially attacked the alleged victim with the hanger" during the October 2015 incident. According to the Statesman, in addition to this alleged assault, Howard also allegedly "racially, physically, and emotionally abused the victim," who was described as "a black, mentally disabled student." In other words, according to the Times-News, Howard is formally charged with "a felony count of forcible sexual penetration by the use of a foreign object."
If Howard is convicted, according to the Idaho Statesman, he could reportedly face up to life in prison, pay a fine up to $50,000 dollars, and register as a sex offender. The outlet also noted that the civil lawsuit filed against the Dietrich School District described Howard as "a large and aggressive male who had been sent to live with his relatives in Idaho due to his inability to keep out of trouble in Texas." According to the Times-News, Howard is currently finishing up high school in Texas.
"We've never seen anything like this," Don Heiken, the mayor of Dietrich, Idaho told the Washington Post. "No one knows how to deal with it, what to make of it."
Until the case can be laid out in court, the public will have to wait patiently to see whether or not the student will, in fact, be charged and convicted in the alleged assault, or if he'll be cleared of any wrongdoing. Howard's case comes on the heels of several other headline-grabbing sexual assault cases, several of which have stirred up ire and controversy regarding the central suspects' sentencings.