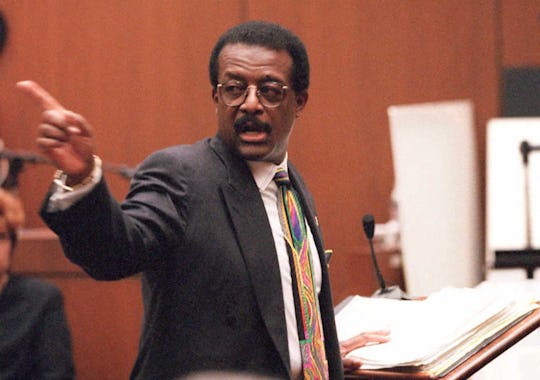 HAL GARB/AFP/Getty Images
Who Is Johnnie Cochran's Ex Barbara? She Wrote A Book That Didn't Portray Cochran Well
Most often, a trial ends to controlled fanfare; the O.J. Simpson trial wouldn't be one of them. "The Trial of the Century" still captivates Americans who watched the former NFL star face murder charges in the 1990s (he was acquitted on all counts). Now that the case is being revisited on The People v. OJ Simpson: American Crime Story on FX, followers of the series are getting the chance to go deeper than they ever have before and discover characters who they only briefly got to know as people (or maybe didn't know at all, depending on when they were born). Who is Johnnie Cochran's ex, Barbara Cochran Berry? The wife of the Simpson defense attorney stepped into the spotlight when she wrote a book packed with serious allegations against her former husband.
Berry moved from Shreveport, Louisiana, to Oakland, California, as a young girl, according to the San Francisco Chronicle. In her memoir, Life After Johnnie, she described growing up with a strict mother and father who was a disc jockey. At her mother's urging, Berry prized her virginity. Her parents died before she turned 18, but she always hoped for a marriage as beautiful as theirs. Berry was working as an elementary school teacher when she married Cochran, the Los Angeles Times reported. They had two kids together, but Berry filed for divorce twice (once in 1967 and once in 1977) before it was finalized. In both filings, Berry accused Cochran of physical abuse. Cochran was never charged. In a 1995 interview with the Los Angeles Times, he denied the allegations: "I never, never touched her. You can talk to her." Berry gave the reporter a statement days later: "I am very happy for Johnnie's phenomenal success." When pressed, she declined to comment.
In her book, Berry detailed accusations of both physical and emotional abuse and wrote that Cochran cheated on her, according to the Chronicle. She claimed that Cochran had a son outside of their marriage, tying him to what felt like an entirely separate family. Cochran believed that the accusations of abuse were made in order to ensure Berry could keep their houses, according to the Los Angeles Times. A People article on daughter Tiffany Cochran indicated that she believed the accusations may have been meant to strengthen Berry's legal argument for a divorce. She told People, "My father is not a violent man." Tiffany described a beautiful Hollywood Hills childhood spent with her sister, Melodie; she said her father wasn't much of a disciplinarian.
Not much is known about Berry's life after the book was published, but she did seem to move on from Cochran. In 2000, The New York Times reported that Berry remarried and Cochran gave her a television set to mark the occasion. Berry did not seem to hold a grudge after publishing her memoir. She's quoted in Larry Elder's book, Showdown: Confronting Bias, Lies and the Special Interests That Divide America, explaining why she wanted to share her story:
Over seventeen years, you do grow in courage and strength and faith. I have forgiven him for the lies and the cheating and the times he hit me. My objective now is to tell other women they don't have to take it, to get out of abusive situations and reclaim their lives.
There's very little information publicly available about what happened to Berry or where she is now. Regardless, her claims of abuse are still often disputed, especially when Simpson's trial is brought up. Now that she's back in the spotlight, more people may be picking up her book to hear her side of the story.