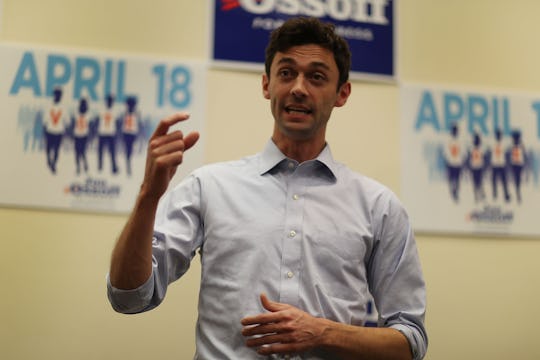 Joe Raedle/Getty Images News/Getty Images
Who Is Georgia 6th District Candidate Jon Ossoff?
Georgia's 6th Congressional District held a special election on Tuesday, and it sounds like a whole lot of people were getting involved, considering it's a relatively small, local race. Who is Jon Ossoff, the leading Democratic candidate in the race, and why do people care so much if he wins the seat?
Ossoff is described as a 30-year-old former congressional staffer and investigative filmmaker by USA Today, and he's made such an impact on the race that President Donald Trump has gotten involved in an effort to persuade Democrats to go out and vote against him. Ossoff is trying to win a suburban Atlanta district that Republicans usually take by 20 points or more — and it looks like he might be able to pull it off.
If Ossoff wins Tuesday's election outright, and doesn't have to face a runoff election in June, he would take an open House seat formerly held by Trump's health and human services secretary, Tom Price, according to The Washington Post. In the hopes of swinging the district blue, a lot of people are getting very involved in the race in an attempt to help Ossoff win — from everyday volunteers to celebrities weighing in on the race.
So who exactly is Jon Ossoff? His official campaign website says he was born and raised in Georgia, and that he grew up in the sixth district, which he's trying to win now. Ossoff spent five years as a congressional aide, according to the website, and the "About Jon" page tempts those who might be tired of what they see as gridlock in Washington or the government in general with the idea that, during his time as an aide, Ossoff learned, "how to get things done in Washington."
The New Yorker reported that Ossoff has risen to the top of a crowded, 18-candidate group, and that he pulled 45 percent of the vote in a poll released this past Friday. And USA Today reported that Ossoff is expected to lead the race that includes 11 Republicans. But the real question is whether he can rise above a 50 percent share of the votes — if he doesn't, a June 20 runoff between the top two candidates would be the next step towards victory for the Georgia native.
Those who see national security as a top priority might be swayed to vote for Ossoff, though it's Republicans who tend to campaign on that point often. Ossoff's website states that he was previously a senior national security staffer in Congress, and that, in that role, he investigated "wrongdoing by government contractors." People who find the government or government contractors corrupt, for whatever reason, might therefore see the appeal of a candidate like Ossoff.
The race is getting so much attention, and Democrats and Trump-detractors are so determined to help Ossoff win, that the candidate is getting some big endorsements from unlikely places. The New York Daily News reported that celebrities like Samuel L. Jackson are helping to boost his ratings — Jackson reportedly has Atlanta connections and did a radio advertisement backing Ossoff's campaign. Other actors such as Christopher Gorham and Alyssa Milano traveled to the district to drive Democrats to the polls as well.
The hashtag #FlipThe6th was popular on social media Tuesday and has been in the past couple of weeks, and it's full of Ossoff supporters making a push to get people to the polls for the special election. USA Today reported that a Democratic win in Georgia could be a sign that Republicans might struggle in next year's congressional elections on a national scale — so Democrats, Republicans, and everyone in between are heavily involved in trying to get the outcome they want from this particular race.
Ossoff's message seems to be one of representing "us," with a quote on his website that states:
I'M RUNNING FOR CONGRESS BECAUSE I BELIEVE WE ALL HAVE TO STAND UP, RIGHT NOW, AND FIGHT FOR PROGRESS — FOR OUR PROSPERITY AND HEALTH, OUR CIVIL RIGHTS AND CIVIL LIBERTIES, AND OUR SECURITY.
And his official Twitter account posted the following Tuesday in a last ditch effort to get voters to the polls:
"This is not about me," the tweet read, "this is about us and what we believe is worth fighting for." The tweet also included a link to a page on his official campaign website with information on finding a polling place for the election.
The relatively young candidate might have a lot of support, but he's still might not win the Tuesday special election with enough votes to avoid going through yet another election in June. One thing is for sure — Ossoff faces a tough road as a Democratic candidate in Georgia, and it will be very interesting to see how the race turns out, as it could have wide-reaching effects on elections to come.