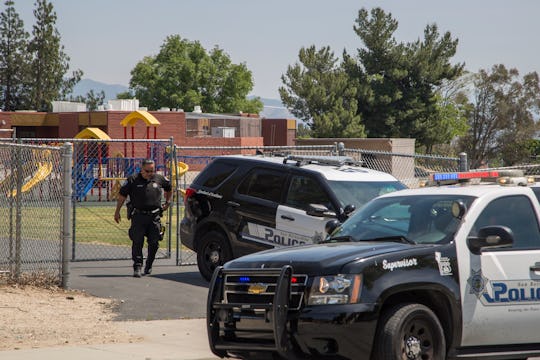 David McNew/Getty Images News/Getty Images
8-Year-Old Student Dies After Elementary School Shooting
One of the two young students who were caught in the crossfire of what is believed to be a murder-suicide at North Park Elementary School has died. Local officials in San Bernardino, California, have confirmed that 8-year-old Jonathan Martinez died from his injuries before making it to surgery after he was airlifted to a nearby hospital earlier on Monday. According to KTLA, officials said Jonathan and his 9-year-old classmate, who has not been identified and whose condition has reportedly since stabilized, were standing behind their teacher in the classroom when the suspected gunman opened fire on his wife, teacher Karen Elaine Smith.
Local police do not believe that any children were the gunman's target as he died of a self-inflicted gunshot wound during the shooting after killing the 53-year-old teacher.
ABC News reported that the gunman was "estranged" from his wife, and he had only been married to her for a short time. He reportedly shot her while she was in a classroom "full of special needs kids" before turning the gun on himself, according to ABC7 reporter Elex Michaelson. According to the school district's website, Smith was indeed a special education teacher.
There aren't many details about Jonathan available to the public and information about the tragic incident is still unfolding, but officials are confident that the 8-year-old victim wasn't the gunman's intended target and was shot because of his "proximity to the teacher," according to Heavy (not that this makes his death any less tragic).
We do know that Jonathan was one of the 15 students in Smith's multi-grade classroom, which reportedly included students from first through fourth grade, when the shooting happened at 10:27 a.m. on Monday. Heavy reported that Smith was teaching in a Special Day Class, which is a term for a self-contained special education class for students with intensive needs that can't be met by the general education program; Students spend more than 50 percent of their day learning from these services.
It's not clear what Smith was teaching at the time of the shooting, but these programs focus on helping children develop social skills and self-control in a less intensive setting so that the child can fulfill their academic potential, according to wiseGEEK.
Harrowing images that dominated Twitter feeds and news broadcasts on Monday showed schoolchildren holding each other's hands as they were led out of the school. Shootings like Monday's are a parent's worst nightmare and this has undoubtedly been a jarring incident to experience for these many young students and their parents. That fear and heartbreak was felt most heavily by little Jonathan's family on Monday night.
As more details about Jonathan and tragedy that took his life continue to emerge in the coming days, it's important to remember the grief these families will suffer and how the nation can prevent yet another traumatic event from happening in the future.
A GoFundMe page has been set up for the Martinez family, for those looking to donate; Funds will be used to pay for Jonathan's funeral expenses and meals for the family during this difficult time.