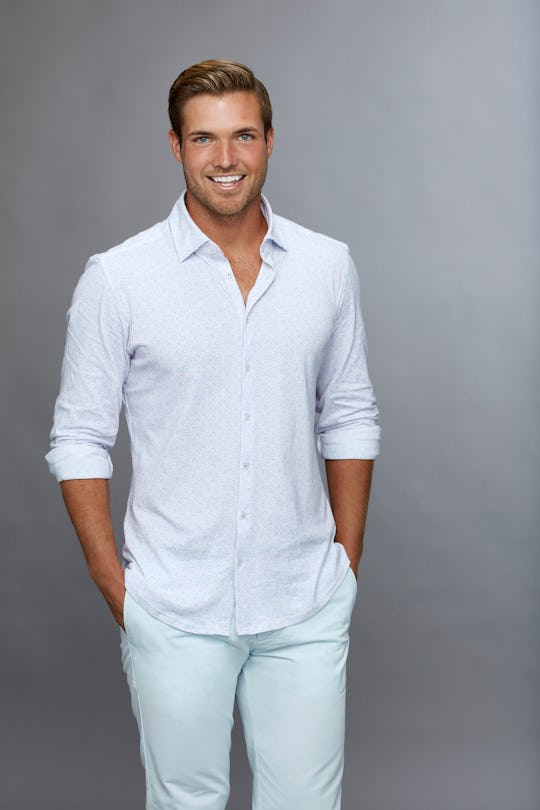 Craig Sjodin/ABC
Who Is Jordan On 'The Bachelorette'? He's Definitely Got The Looks
After getting burned by Arie last season, Becca really deserves a good group of men to choose from during her time on the Bachelorette. And Chris Harrison and ABC really did provide. There are a couple of standouts already, and a lot of people seem to be wondering who Jordan is on The Bachelorette. He looks like a catch, but will he stick around?
Jordans tend to do well in this franchise — Jordan Rodgers and JoJo Fletcher are still going strong, so he has that going for him. Not to objectify him or anything, but goods looks are always a plus -- and Jordan has them! According to his ABC biography, Jordan's a "former business/accounting major," but then "turned his good looks into a professional modeling career."
It adds, "When he's not posing for magazines shoots giving his best "pensive gentleman" look, Jordan enjoys kayaking and running." Apparently, his personal best mile time is 4.24 minutes, which is pretty fast.
It remains to be seen whether or not Becca takes to Jordan, though. On Instagram, some fans have already commented that he's a "tool" and someone else commented that he "sorta looks like Dean." Looking like Dean is alright, but after his behavior on Bachelor In Paradise last summer, that might not be the best role model to look up to for a suitor.
We all know that Becca likes to laugh and have a good time, but the 28-year-old is also dedicated to her career. She's worked at the same public relations firm for over two years assisting tech companies, so when Jordan says that staying tan and coifed all the time as a model is "taxing," you might find her rolling her eyes. (No offense to models, I know it's definitely not easy on the body, but it does mean a lot of travel and socializing, too.)
Really, Becca deserves to have whatever she wants. And I'm not the only fan who agrees. JoJo recently told People that she hopes Becca enjoys every single second of her time on the show this season. JoJo said:
You know what, she had a really tough go. It's her moment now, so I'm excited for her. I would say to really try to just take a moment during this experience, because it's really crazy. I feel like I suffered amnesia from my whole experience and don't remember anything, so to just try to live in the moment if you can.
Apparently, she did, too. USA Today reported that Becca does get engaged at the end of the season and hopes to get married soon. She said of the proposal, "It was the happiest moment of my life. And it feels so good to say it. I still pinch myself, like, did that all just happen? It's been a whirlwind." Adorably, she added:
I feel like I just can't wipe the smile off my face. It just feels like it's just a perfect fit for me... in my heart, it just feels so right. I feel like I finally found my missing puzzle piece.
She told Entertainment Tonight a similar thing, saying, "[I love] so many things [about him].Just that he put up with me through the entire journey."
Somehow, I just don't see Jordan being that dude. But who knows, maybe he really is there for the right reasons. There's not a lot to glean at the moment from his social media profiles. On Instagram, he posts modeling shots most of the time, along with the rare travel pic or Boomerang. He's pretty into his modeling career, at the very least.
Becca has a ton of good guys to choose from, Jordan included. We'll have to wait and see if she ends up being the model-type.