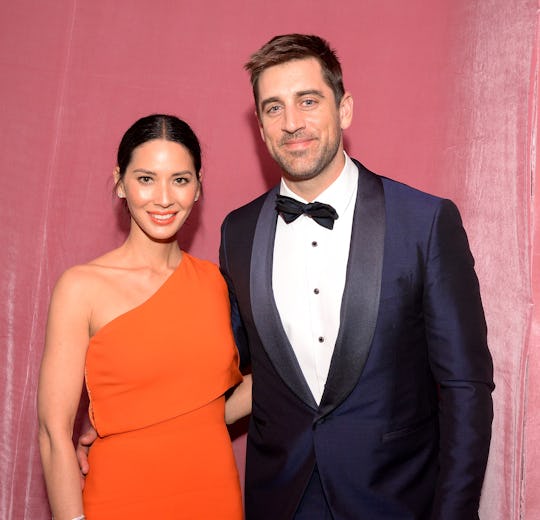 ANGELA WEISS/AFP/Getty Images
Who Is Jordan Rodgers' Brother? 'The Bachelorette' Contestant Has A Famous Relative
Though this season of The Bachelorette hasn't made a huge fuss about Jordan Rodgers' family (at least not yet), it's no secret that he has a famous brother. While Jordan isn't using that connection to his advantage in the competition, there's no denying that it definitely helps differentiate him from the other guys – at least the audience will be sure to remember his name. Who is Jordan Rodgers' brother, Aaron Rodgers?
Jordan's brother is Green Bay Packers quarterback Aaron Rodgers. The brothers have a lot in common, at least on the surface; they've both worked in professional football, though Jordan is now retired from the game. Aaron, on the other hand, has been seriously successful when it comes to making his mark on the sport and making himself a household name. He's also dating actress Olivia Munn.
Aaron hasn't made any statements about his baby brother's television debut, but that's probably just because he's a big fan of privacy. Despite being a celebrity in his own right and dating a big name actress, Aaron likes to remain quiet, as he said in his podcast Tuesdays with Aaron. "I like my privacy, I like being able to be the quarterback during the week but during the off-season be able to do what I want to do and not be in the public eye."
Aaron started playing football from a young age, and continued playing through high school and college. After doing well during his college years, Aaron was selected by the Green Bay Packers, where at first he functioned as a backup to quarterback Brett Favre; later, in 2007, he took over the position and just continued to thrive. In 2013 he signed a five year contract extension with the Green Bay Packers that netted him $110 million and made him the highest paid player in the history of the NFL.
Aaron started dating Olivia Munn in 2014 after they met at the Academy of Country Music Awards. Though she had no idea who he was during that first meeting, they had enough of a spark to start seeing each other. Though the relationship has brought them both a lot of attention, the normally private Aaron has been happy enough not to care. He told ESPN Wisconsin in an interview, "I'm real happy in my relationship. And I understand what comes with it."
Here's hoping his brother Jordan can be as lucky in love.