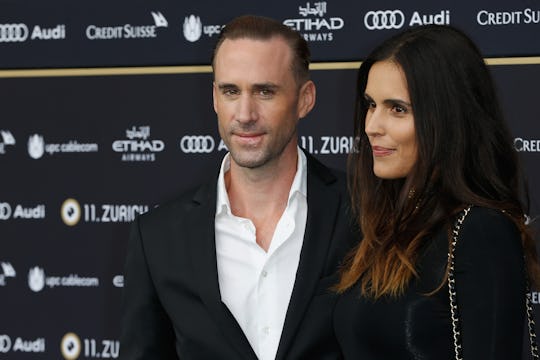 Luca Teuchmann/Getty Images
Who Is Joseph Fiennes? The White Actor Will Play Michael Jackson In An Upcoming Biopic
Be prepared to have your mind blown. British actor Joseph Fiennes will play Michael Jackson in an upcoming British made-for-TV movie about a legendary (and strange) road trip that the late pop star took with Marlon Brando and Elizabeth Taylor the day after 9/11. Of course, what's really bizarre is not that Brando, Taylor, and Jackson could have swung through an interstate rest stop together. What's bizarre is the fact that Fiennes is a white man. A white man that's going to play a black man. Sigh.
Let's back up a little. Fiennes is most known for his role in Shakespeare in Love but has starred in tons of films and television shows, including American Horror Story, Enemy at the Gates, and Elizabeth among others. The upcoming film will star Stockard Channing as Taylor and Brian Cox as Brando, according to The Guardian.
Fiennes is reportedly excited about the Jackson role (as anyone about to play the King of Pop should be). According to News.com.au, Fiennes said he thinks the film will be a fun dramedy. "It's a fun, lighthearted tongue-in-cheek road trip of what celebrity of that kind is like," he told reporters. "But also it's rather beautiful and poignant about their relationships as well."
If you're still more interested in the movie itself, which will be produced by Sky Arts, here's the dish: The story goes that Michael Jackson was so desperate to get back to the West Coast after a tribute concert in New York City around 9/11 that he hired a car and piled the two other Hollywood legends in with him.
The road trip story that the film is based on may or may not be true. Vanity Fair first reported that the three celebs and friends packed themselves into the car after the Twin Towers fell, but one of Taylor's assistants has maintained that the star stayed behind in Manhattan, at the St. Regis Hotel. Of course, none of that really matters because seriously — what were the casting directors thinking?
Fiennes is a great actor, to be sure. But that doesn't change that fact that he is a white man. Amid the controversary surrounding the lack of diversity at the Oscars and the popular #OscarsSoWhite hashtag campaign, Twitter is both outraged and semi-amused that Fiennes will play Jackson. Many have moved past their surprise, because you just can't make this stuff up.
In fact, a few Twitter users got together to come up with their own casting choices, completely whitewashed in accordance with the general #OscarsSoWhite sentiment:
It's pretty absurd and racist to cast a white man as a black man, even if the controversy surrounding the lack of diversity in Hollywood wasn't on everyone's minds at the time. Sure, there have also been jokes about how Jackson was light skinned in 2001 due to vitiligo, a skin pigmentation disease, but that doesn't change anything.
Nothing against Fiennes, but there are so many more options of talented actors to play Michael Jackson in a film — and this kind of casting just completely misses the mark.
Image: Luca Teuchmann/Getty Images