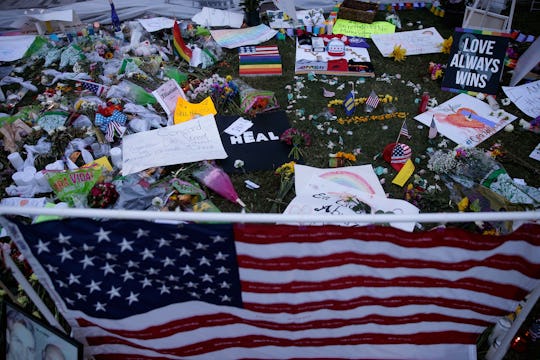 Drew Angerer/Getty Images News/Getty Images
Who Is Juan Chevez-Martinez? The Mexico Native Was Beloved By Friends & Colleagues
It feels like there is no shortage of important conversations that need to be had in the aftermath of Sunday's massacre at Pulse nightclub in Orlando. Debates about gun safety, LGBTQ rights, Islamophobia, and radicalization are all making headlines, but it's also just as important that we don't forget to remember the victims who lost their lives as a result of senseless violence, and honor their memories. One of those victims was 25-year-old Juan Chevez-Martinez, a native of Huichapan, Mexico, who was living in Davenport, Florida, when he was killed Sunday. Who is Juan Chevez-Martinez? While his relatives have requested privacy during this difficult time, his friends and coworkers have come forward to talk about his kind heart, and how well-liked he was by everyone he met.
According to the Orlando Sentinel, Chevez-Martinez seems to have also been known by the name Juan Chavez Martinez, and had worked as a housekeeping supervisor for ADPC Services, a staffing company connected to a chain of hotel resorts in Florida, for the past seven years. And from the sounds of it, he was well-liked by both his supervisors, as well as the housekeeping staff he managed. Alicia Amarro, Chief Financial Officer for ADPC Services, told the Sentinel, "he was extremely friendly, very dedicated to his family, to his co-workers. … It is very difficult. Everybody loved him."
Jose Crisantos, a former housekeeper who worked under Chevez-Martinez, had similar things to say upon learning that he was one of the victims of the Pulse shooting. Crisantos told the Sentinel Chevez-Martinez was "very well known among [the housekeeping staff] as very kind and loving. … There was nobody else like him. It is a devastating loss."
Robert Urdaneta, another friend and colleague of Chevez-Martinez echoed that sentiment in a Facebook message translated into English by the Sentinel, which read,
May God bless you and hold in you in his glory. And rest in peace, my good friend. My brother in work. An excellent boss and person. We miss Juan Chavez.
While Chevez-Martinez's family has yet to comment publicly, according to The Guardian, a Mexican government official has confirmed that his family has reached out to ask for assistance to have his remains returned to his home country. According to the Sentinel, a representative from the Mexican consulate in Orlando said that the government would be providing financial assistance to families, though he did not mention Chevez-Martinez by name.
His niece, Ashley Gonzalez, has set up a GoFundMe page for costs associated with her uncle's funeral in Mexico. Gonzalez, also a Florida resident, wrote in the page's description that "his parents live in Mexico and they need all the possible help" for funeral costs and transportation. So far, over $900 has been raised.
The death of Juan Chevez-Martinez is yet another devastating loss, for his friends and family in Florida, as well as in Mexico. Like so many of the individuals killed in the Pulse shooting, Chevez-Martinez leaves a legacy of kindness and love behind him, and that is something we should never forget.