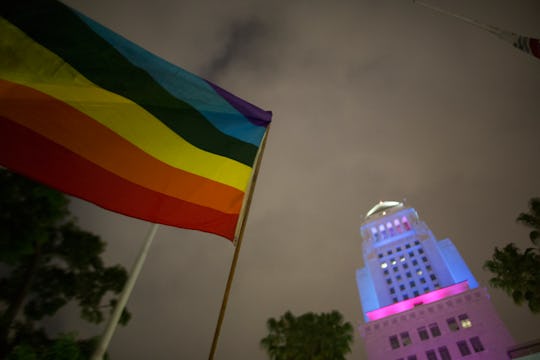 David McNew/Getty Images News/Getty Images
Who Is Juan Ramon Guerrero? The Orlando Shooting Victim Died Next To His Boyfriend
Before they died in the mass shooting at a gay nightclub in Orlando, at least one couple had been planning on getting married. Now, the world is learning who Juan Luis Guerrero and his boyfriend, Christopher "Drew" Leinonen, were as their reeling families plan a joint funeral instead. The stories of each of the 49 who were killed at Pulse are devastating, and Guerrero's is one of a college student looking toward his future, with a family that loved him fiercely. Now, they have a small sliver of solace: that he was with the man he loved when he died.
"They were honestly so in love. They were soul mates. You can tell by how they looked at each other," Guerrero's older sister, Aryam Guerrero, told Time. "It's a little comforting that they died together."
When he died, the 22-year-old Guerrero had recently completed his first year of study as a pre-finance student at the University of Central Florida, The Orlando Sentinel reported. He loved peanut butter and "was always telling jokes and making people laugh," a friend told the newspaper. He and Leinonen, 32, were living together and had been a couple for about two years.
Guerrero came out to his family about three years ago, and they were "really loving and accepting," his sister said. But they'll have to celebrate his upcoming 23rd birthday without him.
"My wife will cook all the food he likes," his father, whose shares a name with his son, told Time. "He was a beautiful kid, a hard worker, friendly, sweet person."
Guerrero was tragically killed over the weekend when a gunman, who had allegedly pledged allegiance to the terrorist organization ISIS and was toting a military-style assault weapon, attacked the LGBT Pulse nightclub just after 2 a.m. Sunday morning. Officials are working out whether this was a terrorist attack, a hate crime, or both. What's immediately clear is that those who died, like Guerrero, leave a gaping hole in the hearts of so many loved ones.
Guerrero's uncle, Robert Guerrero, described Guerrero as "a very kind human being" and a "wonderful son," The New York Times reported. "He didn't deserve none of this," he said.
Guerrero — who frequently traveled to gay pride events across the country along with Leinonen — certainly didn't deserve to be murdered during a night out dancing to Latin music, and neither did Leinonen himself. While her son was still missing, Leinonen's mother gave a heartbreaking interview to ABC News, telling the interviewer how her son started the gay-straight alliance in high school and had visited SeaWorld before heading to Pulse.
Guerrero's family, on the other hand, was among the first of the victims' families to find out that their son and brother, nephew and cousin, had died. "I just kept saying, 'This isn't real,'" his sister said, according to Time. "I just didn't want it to be real."
But it was. Tragic doesn't even begin to describe what happened at Pulse that night, or the magnitude of what was lost. So many of those who died were with friends or partners, just as Guerrero and Leinonen were. In a world that was less cruel, perhaps they'd all be headed back to Pulse this Saturday night as well.