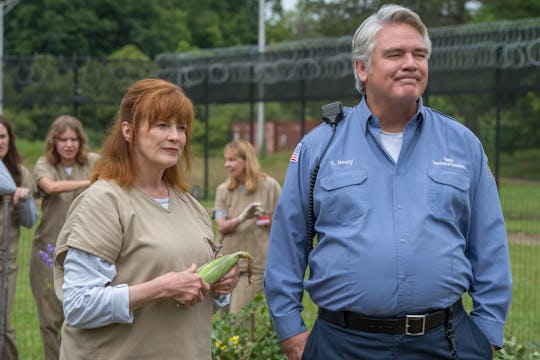 Netflix
Who Is Judy King Based Off Of On 'OITNB'? She Could Be Inspired By A Few Celebs
At the end of Season 3 of Orange Is the New Black, a new character was introduced with a scene that subtly paralleled Piper's own arrival at the prison: Judy King showed up with her husband to turn herself in, except in this case issues in the prison meant no one was there to meet her. Judy King's arrival had been foreshadowed throughout the season as the characters followed news of her on television, and Season 4 will finally delve into her integration into Litchfield prison. As a reality star in trouble for tax evasion, Judy bares a more than passing resemblance to a real life figure. So who is Judy King based off of on Orange Is the New Black?
Judy is famous in the world of OITNB for her cooking show, Judy King at Home. Described on the show as "the one with the plantation kinda vibe going on, but in a fun way," there are a couple of potential sources of inspiration for the character. As a woman renowned for her cooking who gets sent to prison, there's an obvious connection to Martha Stewart, who went to jail for a white collar crime. Jenji Kohan also said that the character is Stewart-inspired. However, Judy's Southern style also calls to mind Paula Deen, which TV Guide noted in their review. Blair Brown, the actress who portrays the character, says that Judy is totally original, a creation of the show that stands on her own. (Romper reached out to both Stewart and Deen's representatives, but did not hear back at the time of the publication.)
Brown had a few details about Judy that reveal some interesting things about the character. She refers to Judy as "fairly amoral" and "slightly appalling" but also "very cheerful," going on to say that Judy has an "other" status that sets her apart from anyone else in the prison. "She's a very interesting character, constantly surprising, surprising to me," Brown says, before adding that she was always taken aback by the things Judy said and did.
Judy could certainly function as the new Piper thanks to her pre-prison privileged circumstances but there's more to Judy than that. Thanks to her fame she's an unusual figure in Litchfield and it's sure to bring her into conflict with the other women on the show. Cooking is an especially contentious issue on OITNB, with both Red and Gloria fighting over control of the kitchen, and Judy's professional history could bring her into that storyline.
It looks like Judy will also be forming a surprising bond with Poussey, who is a huge fan of Judy's cooking show. Brown refers to Poussey as Judy's "greatest ally" and if Poussey likes her, she definitely can't be all bad.