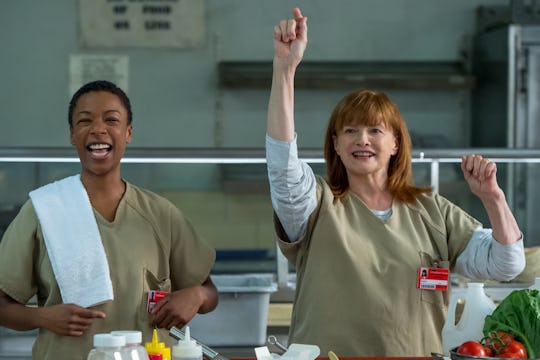 JoJo Whilden/Netflix
Who Is Judy King On 'Orange Is The New Black'? Litchfield Has A New Inmate
One of the characters we were introduced to at the end of Orange Is the New Black Season 3 is Judy King, a daytime cooking show host who gets convicted for tax evasion and assigned to serve our her prison sentence at Litchfield. The inmates already know she's coming, thanks to the very public nature of her case and the televised trial. So who is Judy King on Orange Is the New Black? Actress Blair Brown is back as a regular cast member for Season 4.
In the midst of Litchfield becoming a privatized, corporate-owned prison dealing with issues of overcrowding, Judy adds a high-profile inmate to the mix. Along with being famous on the outside, her cooking show regularly had a hat in the ring during the TV remote wars in Litchfield's common room, mostly thanks to Poussey, whose fictional love for Judy King is rivaled only, perhaps, by Roxane Gay's real life love for Ina Garten. Poussey Washington actually becomes one of Judy's greatest allies on the inside, which isn't a huge surprise since she's experienced deep rifts in her previous BFF-ship with Taystee. Said Brown in an interview with TV Guide:
"I think a lot of people think, 'Oh, she cooks, so she's like Martha Stewart.' 'Oh, she Southern. She's like Paula Deen.' She's actually Judy King, a creation of Jenji [Kohan] and the writers. She's slightly appalling and very good and very cheerful and probably fairly amoral. And it's interesting to watch because she's so other than anybody else in prison."
While Brown downplays her character's similarities to Martha Stewart, Jenji Kohan herself was actually the one who teased that Stewart was her inspiration. And Litchfield is based on the prison in which Martha Stewart served part of her sentence in real life. But Judy's Southern roots also trigger some issues of racism and privilege, with TV Guide calling her "more like Paula Deen than Martha Stewart."
Blair Brown's most recent series regular gigs have been on Fringe and the TV adaptation of Limitless, but she's had a vibrant, sprawling, four-decades-long career on film and television, giving her more than enough chops to hang with the Litchfield crew for a whole season.