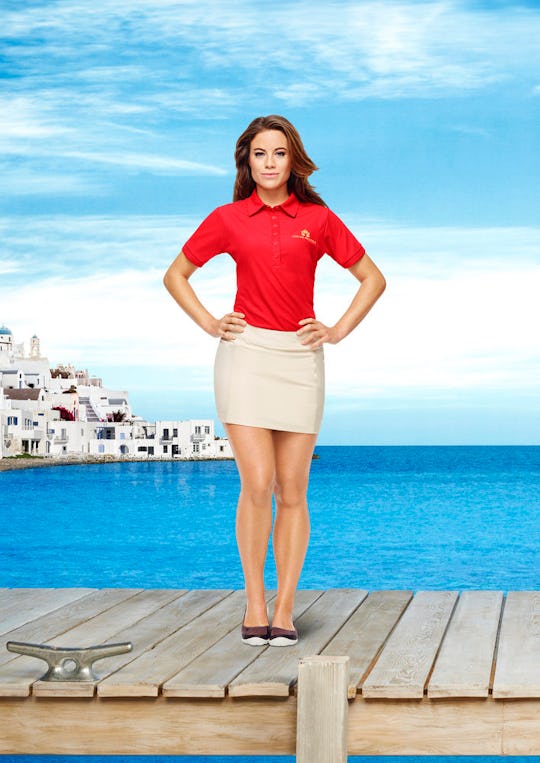 Tommy Garcia/Bravo
Who Is Julia d'Albert Pusey On 'Below Deck Mediterranean'? She Is Very Successful
Below Deck is returning to Bravo with a special edition set in the Mediterranean. A brand new crew, with the exception of returning chef Ben Robinson, will man this season's luxury yacht, the Ioninan Princess, which caters to elite clientele as they vacation in the Greek Islands. One of the most intriguing crew members on board is Julia, the lucky lady who half the ship seems to have a crush on. (Seriously, four of the eight crew members said she was the person they'd most like to hook up with.) So who is Julia d'Albert Pusey on Below Deck Mediterranean?
Well, she definitely establishes herself on the show as a crew member willing to go above and beyond the call of duty. One of the sneak peeks shows her assisting a bikini-clad, scotch-toting guest whose long blonde extensions start falling out on the beach. Julia patiently stands by as the guest hands her a fistful of locks, and even helps the guest yank them out when she decides to simply do away with them altogether.
"Five-star treatment is holding someone's hair extensions and wrapping them up in a napkin, with a smile," she quips, rather horrifyingly, in a cutaway interview. But sea life isn't all Julia's got going for her.
She's A Fashion Designer
The Yorkshire native is actually a pretty well-established designer and business owner. While she's been working as a stewardess in the yachting industry for the past eight years, she's also been doing it as a means of funding and building her creative work. She studied tailoring at the London College of Fashion, and later got an MA in Creative Couture in Paris. Her clothing line d'Albert has been featured in Vogue, spotted on Angel Haze in magazine shoots, and even walked the runway at Paris Fashion Week.
She's A Nausea Remedy Mogul
Julia is the owner of two businesses, both geared towards natural nausea relief — a pretty genius use of her expertise as a professional yachtie. Motion Medic is a supplier of nausea wristbands that are designed to deliver acupressure to pressure points on the wrist associated with nausea. They're marketed to help with motion sickness, morning sickness, and chemotherapy-induced nausea.
Her other company is called Myrtle and Maude, which is more mom-focused, and offers all-natural nausea relief products to pregnant folks battling morning sickness.
...And Yes, She Has a Boyfriend
Sorry, Below Deck-ers; the object of half your collective affection is taken. His name is Matthew, he is very cute, and they even attended a party at Buckingham Palace together at the invitation of The Prince of Wales. Literally no one below deck is fancy enough to compete with Julia.