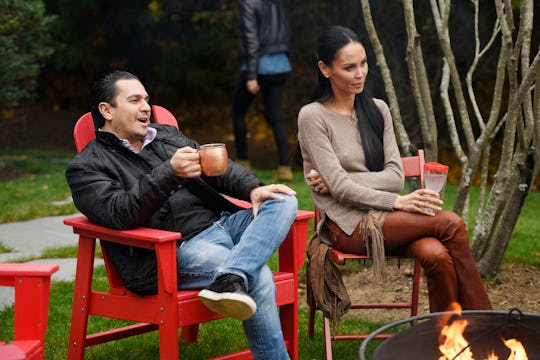 Matthew Eiseman/Bravo
Who Is Julianne Wainstein's Husband On 'Real Housewives Of New York'? He Is No Stranger To Public Drama
Season 8 of Real Housewives of New York is saying goodbye to Heather Thomson (holla!) and Kristen Taekman, but the new face who will be replacing these two ladies is so perfect for the franchise, I'm honestly wondering why she hasn't been asked to be on the show until now. Julianne Wainstein is joining the RHONY cast this season, and is one of the few Housewives who is actually a "housewife" in the traditional sense of the term. As we get to know her, we'll surely get to know her family. First up is the question of who is Julianne Wainstein's husband?
Julianne has been married to Michael Wainstein since 2008 and the couple have two children, Jagger and Rio. Michael Wainstein is a venture capitalist and no stranger to publicity. Which is helpful, as he will probably see a lot of it in coming seasons. Wainstein first made Page Six headlines through his feud with the Koch brothers. No, not those Koch brothers. This is a different, younger set of Koch brothers, of no relation to the industrialists. These Kochs, Daniel and Derek, were part of the party-planning organization Dual Groupe Hospitality, with Wainstein, according to Page Six. The company was best known for throwing their lavish Day and Night brunches at restaurant venues around New York City and the Hamptons, of which Daniel and Derek were the faces. The events were famously boozy and debauched and fairly well-attended.
The trio made headlines for their nasty split in 2013, when Wainstein actually sued the pair. News outlets documented the drama between the former team closely. The Kochs were accused of "a series of management failures, stealing money and, most damningly, calling Dual Groupe Hospitality LLC head honcho Michael Wainstein 'a racial epithet,'" according to New York Daily News's Confidential column.
Even for a Real Housewives cast, that is a lot of drama.
Today, Wainstein is no longer in the party-planning business (though I'm hoping his experience in this arena will lead to some eye-popping Real Housewives events). Now, Wainstein focuses on more serious-sounding investments with his business, Private Capital Group, of which he is the founder and principal. The considerably less splashy (and hopefully less susceptible to such drama) investments are extremely varied, and range from energy to media.
It sounds like the Wainsteins will fit right into the Real Housewives of New York scene.