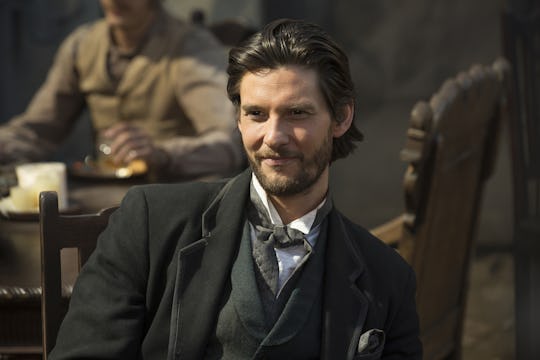 John P. Johnson/HBO
Who Is Juliet On 'Westworld'? Logan's Sister May Have A Bigger Role In The Plot
Westworld is filled with mysteries and while the first season has answered many of the show's mysteries, it's also left us with a lot of questions. In the first episode, Dolores' father, Peter Abernathy, discovered a mysterious photo of a woman in what looked like a present-day city. Seeing the photo, which shouldn't have looked like anything to him, caused Peter to malfunction. Whether it was the setting of the photo or the woman in the photo that set off Peter remains unclear, but in Episode 9 it was revealed that the woman's name in the photo is actually Juliet. So who is Juliet on Westworld? Well, she's apparently Logan's sister and William's fiancée.
When William left Logan behind to run off with Dolores, it wasn't all that surprising that Logan was more than a little upset when he found them again. In fact, Logan only became more annoyed when William tried to convince him Dolores was different than the other hosts and that's when he finally snapped. Logan pulled out a picture of Juliet and shoved it in William's face, reminding him that he was in love with a real woman outside of the park (aka his sister) and that he needed to snap out of whatever feelings he thought he had for Dolores. This course of action clearly didn't work since this just made William super angry and proceed to kill all the hosts around them, but that's neither here nor there. The point is that the photo is the exact same one Peter found, which seems to confirm the two timelines theory.
The theory claims that everything happening with The Man in Black and Maeve is happening in the present while everything involving Logan and William is occurring 30 years in the past. This theory also suggests that William is a younger version of the Man in Black, and the fact that he killed all those hosts without batting an eye seems to confirm this theory as well, since the Man in Black has made it clear he doesn't care for the hosts' lives.
Besides the fact that Juliet is the woman in the picture, one has to wonder if she has any other significance in the show. Will she appear at the park at some point? If William really is the Man in Black and he did, in fact, marry Juliet, that would mean she's now dead in the present-day because the Man in Black said his wife died. Still, that doesn't mean she won't show up at some point. There's no information about the woman that plays Juliet, which seems to imply the only time we'll see her is in that photograph. But then again, with Westworld you can never really be sure what tricks the writers have up their sleeves.
At the very least, Abernathy will have to stumble across her photo during William's timeline in order to recall the memory (and thereby glitch-out) during the Man in Black's timeline. Right? Hopefully, everything will become clear soon.
Make sure to tune into to HBO for the 90-minute season finale of Westworld at 9 pm to see how this first season comes to an end.