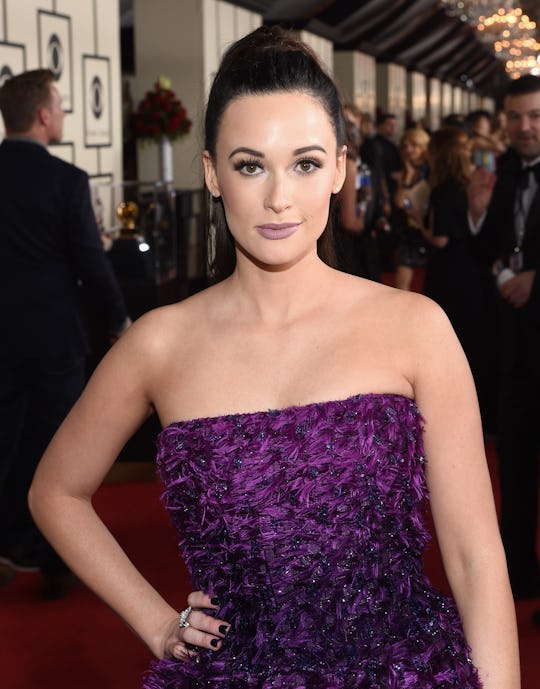 Larry Busacca/Getty Images for NARAS
Who Is Kacey Musgraves' Sister? Her Grammys Date Is Her Biggest Fan
On Monday night, the creme de la creme of the music world came together to celebrate the 58th Annual Grammy Awards. As important as the awards and the performances may be, it's the red carpet that really matters. Early on in the evening many viewers found themselves wondering, "Who is Kacey Musgraves' sister?" after the star showed up without her boyfriend, bringing her sister with her to the show in his place. It turns out, Kacey's sister's name is Kelly and instead of bringing her boyfriend and guitarist of her band, Misa Arriaga, to arguably the most important night in music, the badass chick currently slaying country music brought her beautiful sister, because romantic love can come and go, but sibling love is forever. Kelly is younger than her country music star sister and is clearly taking advantage of being the baby. (As would I, Kelly. As would I.)
Kacey's little sister has been her professional photographer since the very beginning of her now-impressive career. Kacey told ABC News in a 2014 interview, "My sister has been my photographer since day one ... my parents in their little print shop would print up head shots and merch for me and load it up in my grandma's minivan." I love that the sisters have been there to support each other and to be a mainstay in one another's careers. The big, wide world of fame can be unforgiving at times (honestly, in the blink of an eye), so it's amazing that they have each other close by to lean on. It seems that keeping her family close in both her personal and professional success is something Kacey has been doing since the very beginning. Musgraves' parents and grandparents helped her sell CDs when she was first starting out, and at the beginning of her career, Kacey's grandmother was her booking agent.
Whether she is in Golden, Texas, writing her first song at just 9 years old, or she's walking the red carpet at the Grammys, it's clear that Casey hasn't forgotten where she came from or who helped her along the way.
Deciding to bring her sister instead of her boyfriend, wasn't the only classy move Kacey made on the red carpet. E! News accidentally called Kacey Musgraves, Tori Kelly. Um, oops? It didn't appear that Kacey was aware of the mishap, but in either case, she handled the usual red-carpet questions like a champ, and didn't seem to mind the fact that E! News failed to call her by the correct name. I mean, no big deal, it's only their job, right?
Brings her sister and doesn't mind an embarrassing E! News blunder? class. Class all the way.