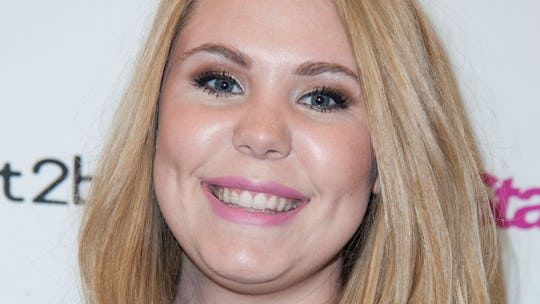 Valerie Macon/Getty Images Entertainment/Getty Images
'Teen Mom 2' Star Kailyn Lowry Reveals She Has Girlfriend — But Who Is She?
Since welcoming her third child in August, single mother Kailyn Lowry undoubtedly has her hands full with a house full of boys. But apparently, that hasn't put a halt on the 25-year-old mom's love life. In fact, Teen Mom 2 star Kailyn Lowry has revealed she has a girlfriend. But what is the identity of her newest love interest?
On Nov. 15, Lowry made an appearance on the podcast Coffee & Convos with Lindsie Chrisley. There, when the star was asked if she has a girlfriend, Lowry replied, "Yeah," according to Us Weekly. The revelation might come as a shock to some because up until this point, the reality star and author has only openly dated men. "We were friends for a year and so it kind of just turned into [a romantic relationship]," Lowry continued. "So, it's not like she was trying to wine and dine me to ask me to be her girlfriend, you know what I mean? It more or less just happened."
During the podcast, Lowry also admitted that life as a dating single mom isn't always easy. "We go out to eat, but it's kind of hard because I have kids, I have a baby," she said on Coffee & Convos, according to People. The busy mama welcomed her youngest little guy, Lux — who is now 3 months old (already!) — on Aug. 5. Lux's father is Lowry's ex, Chris Lopez. She's also mom to Issac, 7, with Jo Rivera, and Lincoln, 2, with her ex-husband, Javi Marroquin.
Even though Lowry didn't spill the deets on the identity of her new love interest, as Us Weekly reports, signs are pointing strongly to Dominique Potter. That's probably because Potter has been posting a steady stream of photos with Lowry on Instagram. On Oct. 13, Potter shared a picture of the the couple, writing, "There really aren't many people on this earth that I'd do all this last minute shit with. Side bar- to the 5k+ followers I recently got after she posted me, y'all better use this time to comment on how poppinnnn she looked during this NYC trip."
Editor's Note: The Instagram post has since been deleted.
On Nov. 11, Lowry and Potter also attended a charity event in New Jersey for Puerto Rico relief efforts — which Potter made sure to document on Instagram.
Editor's Note: The Instagram post has since been deleted.
And on Wednesday, Potter posted a photo of the pair holding hands in a car, writing, "It's all good over on this side ."
Editor's Note: The Instagram post has since been deleted.
Lowry's relationship with a woman might not come as a huge surprise to dedicated fans. Back in 2016, the reality star tweeted, "Do I have to be gay or straight? Can't I just love people?" Granted, this isn't exactly a "coming out" announcement. But it does hint at the idea that for Lowry, a person's sex isn't necessarily a deal-breaker.
Judging by the recent Instagram photos of Lowry and Potter, the reality star mom seems happy in her new relationship. Still, Twitter doesn't seem too impressed. Some believe Lowry should chill out with relationships altogether and instead take time to focus on her three young children.
Others took news of Lowry's new girlfriend as an opportunity to take a personal jab at the spacing of her children. Ouch.
Lowry recently opened up about her relationship with ex and father of her newborn son, Chris Lopez — or lack thereof. "Chris and I haven't seen each other in a month," she told Dr. Drew on Monday, according to People. "So, he hasn't seen the baby either. It's kind of a hard pill to swallow." She continued:
He cheated on me my whole pregnancy. The things I went through all the way leading up to having [Lux] is something I wouldn't wish on my worst enemy.
As I've watched Lowry struggle over the years — with obstacles like teen pregnancy and a series of failed relationships — I can't help but cheer for her to finally find happiness. Whether she ultimately finds love with a man or a woman, I know it won't be an easy feat balancing her time with three young kids. I wish her the best as she navigates the dating world as a single mama.