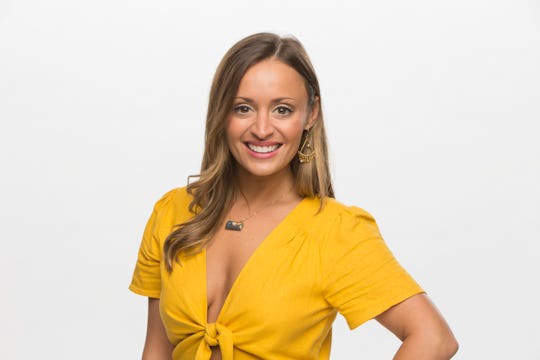 Sonja Flemming/CBS
This 'Big Brother' Guest Has High Hopes For A Calm Household
It's time for an all-new group of houseguests to move into the Big Brother house. The cast of Big Brother 20 has been revealed and the new houseguests are an interesting bunch, ranging from a stay-at-home mom to a professional football player. One of the houseguests this season is Kaitlyn Herman, but who exactly is Kaitlyn and what can you expect to see from her in the Big Brother house?
The 24-year-old is originally from Plainview, New York, but currently resides in Encino, California. She works as a life coach, and in her cast bio she describes herself as being personable, intuitive, and dramatic. Her favorite activities include taking pure barre classes, meditation, and watching reality television (here's to hoping she's a Big Brother super fan).
In her bio she revealed that the most difficult part about living in the house will be not having her "crystals, essential oils, yoga mat, books, or her journal." She said, "I have my daily rituals for self-love and I would have to come up with new ways to make time for myself." When it came to who her favorite past Big Brother houseguest is, she chose Victor Arroyo from Season 18.
"I was just always rooting for him — especially when he got back in the house after winning the Battle Back," she said. "He was such a good competitor and had such a beautifully sweet side to him. I just loved his energy so much as a human being and genuinely enjoyed watching his journey. Plus, he and Nicole [houseguest on BB16 and winner of BB18] are literally a match made in heaven."
Kaitlyn has found her own match made in heaven with her partner, musician Aire Atlantica. The couple have been together for five years, and in an Instagram post Aire revealed that the pair actually watched Big Brother on their first date. That's why it's not all that surprising that Kaitlyn is leaving her Instagram in Aire's hands while she's away in the Big Brother house, cut off from all social media and communication.
Kaitlyn's strategy for winning the game is definitely different from others. She said in her bio, "I'm going to use my intuition, my sensitivity to energy, and my messages from my guides to help me direct which way to move throughout the house. I plan to be that person that creates a sense of calm in the house, instead of bad energy." I'm honestly very interested to see how this strategy works for her, since the Big Brother house is not known for being a calming place.
Falling in line with her strategy Kaitlyn said she would bring her crystal, essential oils and a diffuser, and her journal into the house if she could. "All of these things have transformed my quality of life so much," she said in explanation. "I'm all about good vibes and positive energy and all three of those things help me feel zen." It shouldn't be surprising then that her life motto is, "Everything is happening for the highest good of every person."
One fun fact about Kaitlyn that her fellow houseguests might not see as fun is Kaitlyn's been caught sleeping with her eyes open, which she admits is "terrifying for those I live with." Another fun fact about Kaitlyn is if she senses bad energy with family or friends, she'll (without invitation) start to sage them until the negativity is cleared. I'm not sure she'll have the necessary materials to sage people in the house, but either way I wouldn't recommend doing it without an invitation. That's an easy way to get evicted. Just saying.
With her good vibes and high hopes, Kaitlyn sounds like a fun addition to the house. You can meet Kaitlyn and the rest of the houseguests when Big Brother 20 premieres on Wednesday at 8 p.m. EST.