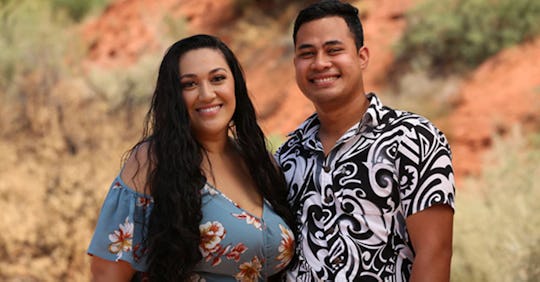 TLC
Kalani's Sister On '90 Day Fiance' Seems Wary Of Her Relationship With Asuelu
Kalani is one of the newest stars of TLC's 90 Day Fiancé, and it's safe to say she has some family members who are not huge fans of her fiancé, Asuelu. Kalani's sister in particular doesn't seem to trust Asuelu, which could be a real challenge for the 29-year-old to deal with as she also juggles a baby and a possible wedding. But who is Kalani's sister Kolini? She's not part of one of the couples on the show, so information on her is limited, but a little internet digging does reveal a few things about Kalani's family in general.
Kalani is from Orange County, California, and Asuelu is from Samoa, according to Reality TV World. That makes their relationship a bit challenging, as they — along with all the other couples on 90 Day Fiancé — have to figure out getting Asuelu to the United States in order for them to get married in 90 days under a K-1 visa.
The TLC description for Kalani and Asuelu reported that when it comes to Kalani's pregnancy before she was married, "Having to break this news to her family didn't give them the best impression of Asuelu, especially her father who doesn't trust him. Kalani's sister also has an issue with him as Kalani hasn't told her the full truth about their relationship." So fans know right from the start that Kalani is not a fan of her possible future brother-in-law.
Apparently, Kalani and Asuelu met when Kalani went on vacation in Samoa, and Asuelu was working at the resort where she was staying. One thing led to another, and although she was raised Mormon in a conservative family, Kalani lost her virginity to Asuelu and became pregnant. Now, they're trying to figure out how to make things work, particularly with a baby, and Kalani's family isn't exactly supportive of the situation.
Kalani and her sister Kolini (I know) appear to be a few years apart in age, and from promos for the show, it doesn't seem Kolini trusts Asuelu much. That might stem from a misunderstanding about him "cheating" on her sister, which Kalani and her sister discuss in the video below.
To be fair, it can feel a little silly to go all-in supporting a sister or friend when they have trouble in a relationship, only for them to reveal they weren't being totally truthful with you about what went down. But a quick glance at Kalani's sister's Instagram account makes it seem like the sisters are fine now. So who knows what happened between that video and now.
From what appears to be her Instagram account, and what we've seen of Kalani's sister so far, she at least seems to support her nephew, Oliver, who is Kalani and Asuelu's son. So whatever issues she may or may not have with Asuelu, it looks like she's still focused on being a great aunt to that little cutie.
90 Day Fiancé viewers should know more about Kalini/Kolini before too long, but I get that being patient is tough. For now, fans will just have to wait and see what's revealed about Kalani's sister on the show, and to see how everything works out between Kalani and the rest of her family.