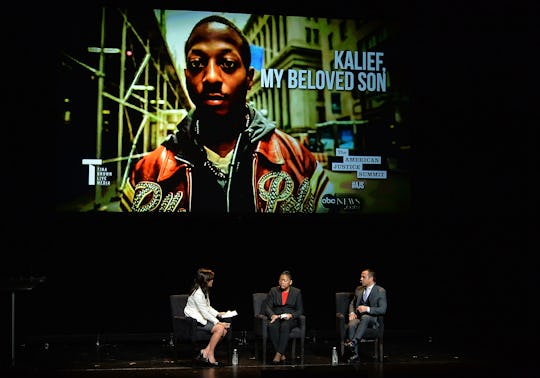 Slaven Vlasic/Getty Images Entertainment/Getty Images
Who Is Kalief Browder? His Mother Has Died A Year After Her Son's Suicide
On Friday, 63-year-old Bronx native Venida Browder died in a hospital from complications following a heart attack — though according to The New York Daily News, she may as well have died from a broken heart. In June of 2015, Browder lost her 22-year-old son Kalief Browder to suicide, after he hanged himself out the window of their apartment. Who is Kalief Browder? Five years earlier, the then-16-year-old was arrested on a robbery charge after allegedly stealing a backpack. But when his family was unable to post bail, he was taken to Rikers Island jail, where he was kept for three years without a conviction, and where he spent an overwhelming number of days alone in solitary confinement.
After Kalief came home, he struggled with PTSD and severe mental health issues stemming from his incarceration, and attempted suicide multiple times before taking his own life. Unsurprisingly, his heartbreaking story struck a chord — at the beginning of October, rapper Jay Z announced he was producing a documentary based on Kalief's life, according to Variety, and earlier this year, President Obama spoke of Kalief's case when he announced that he'd signed legislation banning solitary confinement for juveniles in federal prisons, according to BuzzFeed.
Following her son's death, Venida continued to advocate on his behalf, using her son's experience to push for reform of the criminal justice system.
After news of Venida's own passing was announced, New York City Council member Melissa Mark-Viverito said in a statement to Gothamist,
Venida Browder was a loving mother who fought tirelessly for justice. Despite the city failing her and Kalief, she firmly believed that we could work to create a more fair and just system. She was a champion of criminal justice reform. Venida was a woman of immense courage and boundless optimism. When you were with her, it was impossible to not feel hopeful about a better future. It is now up to us to continue her work. My deepest condolences to the Browder family.
Paul Prestia, a lawyer for the Browder family, also released a statement on Venida's death, and said,
[Venida] was a woman of incredible grace and compassion who tirelessly fought for justice for her son Kalief and who championed the civil rights of others in our city. But the stress from this crusade coupled with the strain of the pending lawsuits against the city and the pain from the death were too much to for her to bear. In my opinion she literally died of a broken heart.
Venida and Prestia spoke out about Kalief's imprisonment and suicide in an interview with ABC News' Juju Chang, and alleged that he was beaten, starved, and subjected to "torture" while inside Rikers. He'd also essentially been denied his Sixth Amendment right, which is meant to guarantee him a speedy and public trial. Instead, according to in-depth coverage of Kalief's case by The New Yorker, his trial was repeatedly postponed, until it was eventually thrown out by a judge when it became clear that the prosecution could not proceed with the case.
As a mother and a human, it's hard to even begin to imagine what the Browder family has gone through. Kalief's story is so heartbreaking, so incredibly unfair, and now Venida's death further compounds it, knowing the pain and grief she was also feeling while trying to fight for justice. But the work that Venida began will no doubt live on, and the legacy that both Venida and her son leave behind will hopefully help prevent another family from experiencing the horror and heartbreak theirs had to.