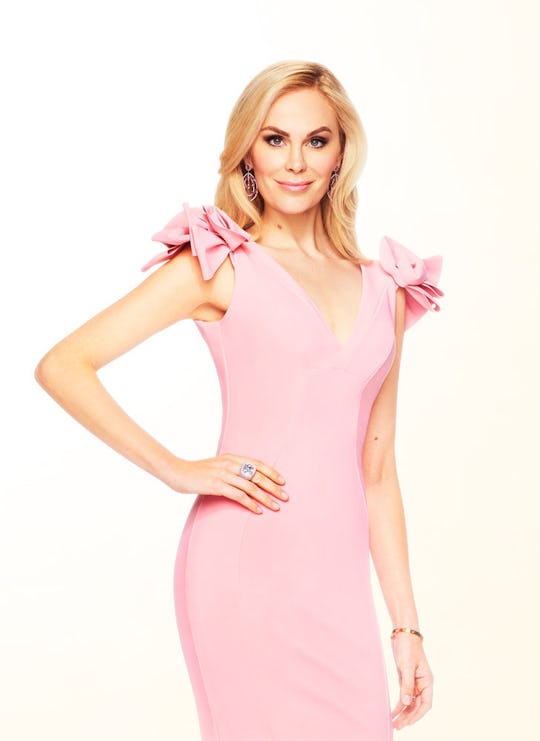 F. Scott Schafer/Bravo
Everything To Know About Kameron Westcott On 'Real Housewives Of Dallas'
It's beginning to feel like every time I turn on my television there's a new Real Housewife to investigate. And now that the Dallas Wives are back, they're also growing in numbers. So who is Kameron Westcott on Real Housewives of Dallas? Season 2 is bringing back dynamic duo Brandi Redmond and Stephanie Hollman, east coast transplant Cary Deuber, and of course socialite and force of nature LeeAnne Locken. So it will definitely be interesting to see how newcomer Kameron fits into this unstoppable dynamic, along with fellow newbie D'Andra Simmons.
After a casual perusal of Kameron's social media presence, I can tell you that she is a woman who can really commit to a theme. Her tagline is "Dumb blondes get noticed. Smart blondes get everything," which I'm not quite sure how to feel about. It's certainly not as good as LeeAnne's "I'm a true Texan. No bull, but all horns." So aside from blonde pride, what else is there to learn about Kameron? Quite a bit, actually.
She seems to have some interesting tastes to say the least, but she is clearly very dedicated to them. This is something I just can't help but respect. I have a feeling she'll get along great with the bubbly personalities of Brandi and Stephanie, but perhaps she'll also jive with Cameron and LeeAnne's somewhat harder edges. Here are some other important facts you need to know...
She Loves Pink
No, I mean she really loves pink. Elle Woods would be sick of this lady's wardrobe. In her Bravo bio Kameron says her motto is "Blonde by birth, pink by choice." Hey, you do you girlfriend.
She Loves Dogs
Kameron has a Yorkie named Louis Vuitton and a family French bulldog named Chunk. I wonder if her commitment to furry creatures extends as far as Lisa Vanderpump's does. I couldn't blame her though. These little guys are so adorable.
She's Creating Pink Dog Food
I don't know what else to say beyond yes, yes this is a logical next step. I don't really think the world needs pink dog food, but I guarantee there is a market for it.
She Has Two Kids
And as you can clearly see, they are all kinds of cute.
She Married Into A Dallas Dynasty
According to her bio "The Westcott name is extremely prominent in Dallas." I'm not that up on the Dallas socialite scene, so I'll have to take her word for it.
Who knows what kind of shenanigans this pink-wearing, dog-cuddling Real Housewife of Dallas will get up to in the second season, but I personally can't wait to find out. Hopefully someone has warned her what happens when you cross LeeAnne.