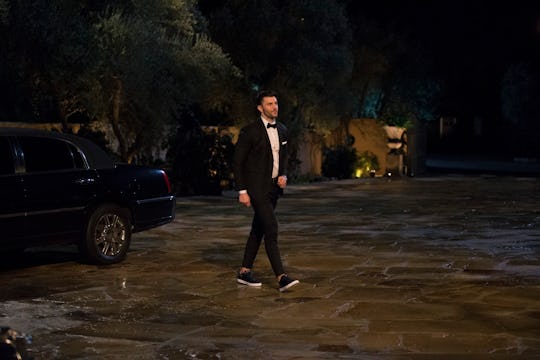 Paul Hebert/ABC
Meet Kamil, One Of Becca's Many 'The Bachelorette' Prospects
One contestant on Becca Kufrin's upcoming season of The Bachelorette has already gone viral for what will presumably be this year's best gag chyron. His occupation is listed as "Social Media Participant" which will likely become his lower third for the remainder of the season, going down with the greats like "Chicken Enthusiast," "Taxidermist," and Robbie Hayes' unfortunate Bachelor in Paradise rebranding: "Social Media Influencer." So who is Kamil on The Bachelorette? Let's see what he does besides participate in the baseline of modern human interaction.
Kamil is a Polish immigrant who moved to the States with his parents when he was five years old, according to his ABC bio. He also has a successful real estate career and works as a fitness model repped by Wilhelmina. (His abs, in case you are wondering, are so shredded that they look physically painful.) So it's unclear with why "Social Media Participant" won out as his occupation over either his practical job or his attempt at top model stardom. He even has a side business as a personal trainer called Fit With Kam, where he offers a few different training and nutrition programs. According to the Fit With Kam website, he's worked in the fitness industry for 15 years, and used to be a soccer player before getting into fitness modeling. Kamil has appeared in the pages of Men's Health and Men's Fitness, and his training philosophy actually seems pretty body-positive.
"My diet and workout plans are not for a bodybuilder aesthetic," Kamil writes on his website. "My goal is to create a pleasing healthy looking physique that is attainable naturally!"
In fact, when Chris Harrison introduced Kamil in the Facebook Live announcement of this season's contestants, he zeroed in on his modeling background, comparing him to one of the other models from Becca's crop of guys. Said Harrison:
Kamil. Also a model, different look than Jordan. Thirty years old, Monroe, New York, social media guy. He doesn't have the blue steel that Jordan has, doesn't talk as much about being a model, but handsome in his own right.
I already like the model who doesn't talk as much about being a model more than I like the other model.
Kamil earned a Bachelors Degree in Business Administration and Marketing in 2010 from St. Thomas Aquinas College and went on to get a real estate certificate in 2013. Most of his work experience has been in sales, marketing, and real estate, according to his LinkedIn profile, but Kamil currently works at a real estate agency in Chester, New York, while also working as the social media manager for a Hudson Valley transportation service.
His LinkedIn bio also references his mad social media skills, identifying him, in part, as a "social media specialist across all major platforms including Facebook, Instagram, YouTube and email marketing campaigns." I wonder if "social media participant" is how Kamil actually described himself, or if it was a funny riff suggested by the producers. Based on his LinkedIn bio, at least, he seems hip enough to the lingo to brand himself as a "social media expert," "guru," or even (gag) "influencer" à la Robbie. In any case, Kamil definitely has a lot more going on that simply being an active participant on social media. Frankly, each one of his abs seems to have enough personality to warrant its own personal Instagram account, but I'll leave it to the specialist to do his own branding.
Rounding out Kamil's life is his enormous German shepherd named Quattro (who is easily stalkable via Kamil's Instagram) and the fact that he likes to cook organic meals. So he might be a buff business-minded guy but he has some sweet, relatable boyfriend traits, too.