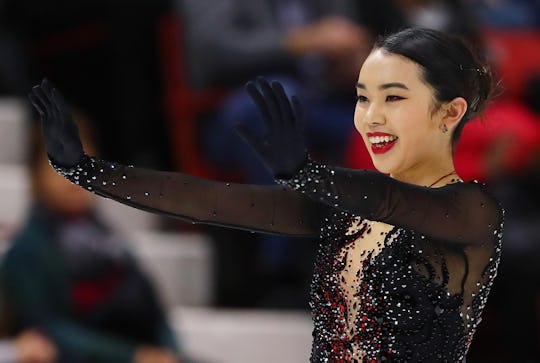 Tim Bradbury/Getty Images Sport/Getty Images
Karen Chen Is The Figure Skater To Watch At The Winter Games
If you're not familiar with all of the athletes on the U.S. Olympics team, then you still have a little while before the festivities begin to get better acquainted. For example, if figure skating is your favorite event of the Winter Olympics, then you'll definitely need to know who Karen Chen is, because she's one of the skaters who has a shot at snagging the gold.
Chen is eighteen years old and hails from Fremont, California. That may seem super young to be so accomplished, but according to PopSugar, she's been skating since she was just four years old. Her brother Jeffrey is also a figure skater, so it seems talent for the ice runs in the family. Chen is no stranger to accolades: NBC Olympics reported that she had won gold at the U.S. National Championship in 2017 and a bronze at nationals in 2015. She finished fourth at the 2017 World Figure Skating Championships in 2017, with teammate Ashley Wagner saying Chen "saved the day" after Wagner herself underperformed.
Chen has struggled in the past, but it seems like she's been able to work through her difficulties to join the U.S. figure skating team. Now she's making her Olympic debut at PyeongChang.
It hasn't been an easy journey to get there, however, which Chen discussed with Ice Network. "It was definitely a struggle," she said. "I went through a lot of obstacles, particularly with boot problems that resulted in injuries. I'm happy I got most of it resolved, and I'm feeling good again. I guess I've just learned from all my past mistakes. Hopefully, I'll keep improving."
Chen had struggled with the boots of her skates, something that caused her knee pain and may have had an effect on her performance. Solving that issue with custom boots, she was able to get back on track. Chen delved into her difficulties during the last few years in her memoir, Finding the Edge: My Life on the Ice, where she also revealed a back condition that she had to find a way to overcome. There were definitely a lot of things standing in Chen's path.
But it was all worth it when Chen excelled at the 2017 championships, where she earned the highest short-program and free-skate scores, according to NBC Sports. After that, she was able to land a spot on the U.S. women's team. "It was definitely a moment I will never forget," Chen told NBC News. "Even now, thinking back to it, I'll sometimes feel like, 'Was it a dream?' Did it really happen?' But then I'll go back to my room, and I'll see the medal and the trophy. And I'll be like, 'Yes, it actually did happen."
Chen also has a pretty impressive mentor to offer her advice when she needs it: 1992 Olympic gold medalist Kristi Yamaguchi. Yamaguchi told InStyle that she had known Chen since she was just twelve years old, because they share the same hometown. Yamaguchi shared some words of wisdom with Chen before the Winter Olympics, saying:
"The one major thing that I've told her is that for the Olympics you have to learn to insulate yourself from the pressure. I've always tried to keep her thinking positively because it's easy to let doubts creep into your head before a big performance like this."
Adorably, Chen has Yamaguchi sign her right skate for good luck before every competition, a tradition they've had since the first time they met, according to Cosmopolitan. With all that support on her side, a lucky signature on her skate, and tons of hard work behind her, Chen should do well at the 2018 Winter Olympics.
Check out Romper's new video series, Romper's Doula Diaries:
Watch full episodes of Romper's Doula Diaries on Facebook Watch.