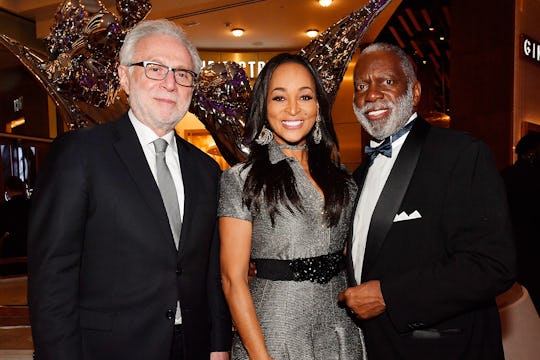 Larry French/Getty Images Entertainment/Getty Images
Karen Huger's Husband Has A Very Successful Career
Although The Real Housewives of Potomac is all about the wives, Karen Huger's husband Raymond is also sort of a star as well, given how often Karen mentions him. Raymond went to Bernard Baruch College for his undergraduate degree and then to Fordham University for graduate school. From there, Raymond went on to work at IBM as a staff director and manager, and ended up staying for 25 years.
He then broke out on his own and started up his very own company, Paradigm Solutions International in 1991. Raymond built the company up to a $60-million-dollar business and took it public in 2004, just before selling it off to a government contractor called CACI, which does cybersecurity.
So that's where a vast majority of the Huger money comes from. He was awarded an honorary degree from the University of the District of Columbia for, "his outstanding accomplishments as an information technology innovator." The university added that his company was responsible for the "creation of an innovative software program."
Raymond's business acumen is just one of his skills though. He's also a great support system for his wife, Karen. They really do seem to love each other. They've been married for 19 years and are really supportive of each other. But just because Raymond is a millionaire doesn't meant that Karen doesn't bring her own impressive accomplishments to the marriage as well. In fact, she takes credit in helping to build Raymond into the millionaire he is today.
Karen's said of their relationship to the Daily Dish:
I think if you go out there with the agenda of 'looking for a millionaire' you may not find him, but you may find the qualities and the necessary tools in place. You just have to nudge him along in the right direction.
They met in their 30s, which is maybe why they're so tight: they already had their careers and own things going on when they met. However, after getting married, Karen did take a break from her career to raise their two children, 27-year-old son Brandon and 17-year-old Rayvin.
It's all about mutual love and respect, though, for the Hugers. And that's clearly shown in all of their adorable photos together. These two know how to make a relationship work for the long haul. I think many couples out there strive to form that type of close bond. Some of the Real Housewives husbands may come and go — but I think Raymond is a definite keeper.