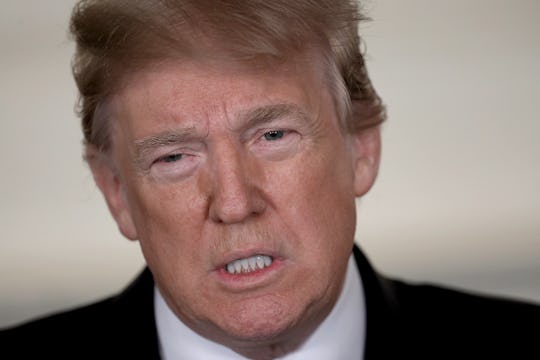 Win McNamee/Getty Images News/Getty Images
Here's What You Need To Know About Karen McDougal & Her Allegations Against Trump
It may seem like the United States only just stopped talking about Stormy Daniels' alleged affair with President Donald Trump — a story the president vehemently denied — and yet there's already another new allegation making headlines. This time, the allegations are coming from a Playboy model from the 1990s who has a particularly interesting story about how her story was silenced. So, exactly who is Karen McDougal, and why are her allegations taking over headlines?
A former Playmate, McDougal was voted Playmate of the Year in 1998, and she told The New Yorker on Friday that she first met Trump when he was at the Playboy Mansion in 2006, filming an episode of The Apprentice. At the time, he was already married to first lady Melania Trump, and the couple had just welcomed their son, Barron, into the world several months before.
The New Yorker received details from an eight-page, handwritten note reportedly written previously by McDougal and supplied to the magazine by her friend, John Crawford. The alleged affair, as McDougal described it, was consensual and lasted nine months — into 2007 — before McDougal broke it off.
Romper reached out to the White House and Trump's personal lawyer, Michael Cohen, for comment, but did not hear back immediately. However, a White House spokesperson told The New Yorker:
This is an old story that is just more fake news. The President says he never had a relationship with McDougal.
In her eight-page note, McDougal described what she alleges was an ongoing relationship with Trump, including his offer to pay for her sex. "He offered me money," McDougal wrote, according to The New Yorker. "I looked at him (+ felt sad) + said, 'No thanks - I'm not 'that girl.' I slept w/you because I like you - NOT for money' - He told me 'you are special."
McDougal's note claimed Trump would see her every time he was in Los Angeles, and that he paid for her travel to see him — but carefully. "In fact, every time I flew to meet him, I booked/paid for flight + hotel + he reimbursed me," she wrote, claiming there was "no paper trail."
Where things get interesting, however, has less to do with the decade-old affair and more to do with why McDougal didn't come forward with her story. As The Washington Post reported in early November 2016, American Media, Inc. — the company that publishes The National Enquirer — reportedly paid McDougal $150,000 for her exclusive story about the alleged affair. But the tabloid never ran the story.
American Media, Inc. denied using a "catch and kill" technique to keep McDougal's allegations secret. "AMI has not paid people to kill damaging stories about Mr. Trump," the company said in a statement at the time, according to TIME.
Romper reached out to AMI for comment on Friday, but did not hear back immediately. However, AMI told The New Yorker that it didn't believe McDougal's story was credible enough to print. AMI also claimed it amended McDougal's contract to allow her to talk to the press in cases of "legitimate press inquiries."
But McDougal said the contract was not amended. "It took my rights away," McDougal told The New Yorker. She continued:
At this point I feel I can't talk about anything without getting into trouble, because I don't know what I'm allowed to talk about. I'm afraid to even mention his name.
McDougal hasn't said much else publicly about the alleged affair. However, the notes her friend gave The New Yorker contained similar details to stories shared by other women who have alleged sexual relationships or sexual misconduct with Trump (all of which the president has denied). More details are likely to emerge in coming days, but in the meantime, this seems like another "he said, she said" impasse — in a series that certainly contain a lot of "she saids."
Check out Romper's new video series, Romper's Doula Diaries:
Watch full episodes of Romper's Doula Diaries on Facebook Watch.