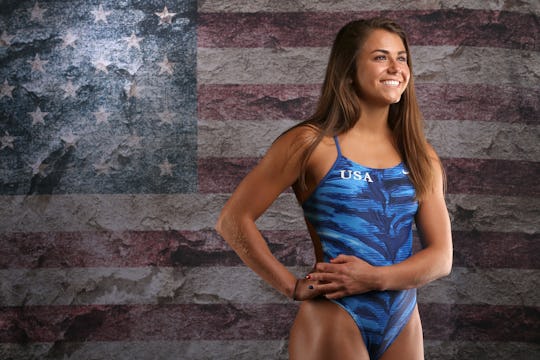 Sean M. Haffey/Getty Images Sport/Getty Images
Who Is Kassidy Cook Dating? She's Moved On From Her Rumored Former Flame
Olympic diver Kassidy Cook has been in the spotlight for years. It started around the time of the 2012 London Olympics when she was spotted with UK diver Tom Daley, a diver from the UK who won bronze in London. At the time, Cook reportedly flew from the U.S. to London to help Daley celebrate his medal, cementing the public perception that the two were an item. But that was a long four years ago, when the now-21-year-old was just 17. So now, who is Kassidy Cook dating? Both she and Daley have moved on.
It all started exactly four years ago in August 2012, Cook and Daley were spotted together, just a day after Daley won the bronze medal for his diving. Cook flew to London to help him celebrate, according to The Daily Mail. The two were snapped leaving the Funky Buddha nightclub, after what looked like a fun night, Cook barefoot clutching her high heels and the two getting into a taxi and leaving together. They were a fairy tale Olympics couple and it's easy to see why people got excited about the two being in a relationship.
But like most relationships between teenagers who live on opposite sides of the Atlantic ocean, it didn't last.
Just two years later, Daley came out declaring "I am a gay man now," according to the Daily Mail in a YouTube video he made to go public with his sexuality. It also made him a huge star. The Mail reported that, in the wake of his announcement, he got his own travel series and endorsement deal from Adidas.
Following that high-profile relationship, Cook has kept mum about her romantic life. Her social media feeds are full of plenty of shots of her and her "babies" rather than a bevy of boys.
"I have two black labs. I love them!" Cook told NBC Olympics. "Their names are Bentley and Zoe. They are my best friends; I even let them sleep in my bed with me. Bentley loves to cuddle, haha. She is always the 'little spoon.'"
Instead, it sounds like the Olympian and Texas native has been focused on her diving. Cook missed making the 2012 Olympic team for the London games by less than a half of a point, according to People. Following that heart breaker, she had to battle back from several injuries.
But now, Cook will be competing on Friday, Aug. 12 in the 3-meter springboard competition in Rio. And when she hits the pool, take notice of one of her most important pre-competition rituals.
"I cannot compete without my nails being painted!" Cook said, according to NBC Olympics. "It's a weird tradition of mine! I always get a mani and pedi before a competition."