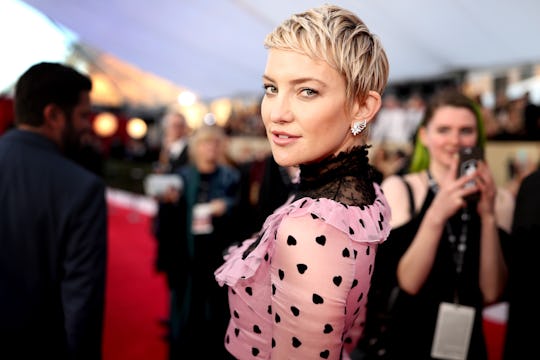 Christopher Polk/Getty Images Entertainment/Getty Images
Who Is Kate Hudson Dating? She Is Pregnant With Baby No. 3
Kate Hudson has been a little MIA from her social channels, but her newest Instagram post makes the absence totally excusable. "SURPRISE!!! If you've wondered why I've been so absent on my social channels it's because I have never been more sick! It was the most sick trimester of all my children," Hudson wrote in her caption. That's right, Hudson is now expecting her third child, a baby girl, and her announcement video is adorable! But, the exciting news has fans wondering, who is Kate Hudson dating?
In December 2017, Hudson celebrated her one year anniversary with boyfriend Danny Fujikawa. It's Fujikawa who can be seen in the announcement video with Hudson, holding onto the second question mark labeled balloon.
"And it's too darn challenging to hide, and frankly hiding is more exhausting than just coming out with it! My kids, Danny, myself and the entire family are crazy excited! A little girl is on the way," Hudson went on to say in her Instagram caption.
This lucky baby girl will be born into a family full of talent. Not just Hudson, who has starred in movies like How To Lose A Guy In 10 Days and You, Me, and Dupree, but her father Fujikawa, too!
Before dating Hudson, he was previously the lead singer and guitarist of the band Chief. Hollywood Life also wrote that in 2013, Fujikawa started his own record label, Lightwave Records, with Chris Acosta from The Delta Mirror.
Although the couple originally made their red carpet debut in May 2017, they've actually known each other for quiet awhile. "The first time I met Danny I was 23 and enormously pregnant with Ryder. His step sisters are my best friends @sarafoster @erinfoster and so it goes we have been in the same circle for over a decade!" Hudson explained in an Instagram post celebrating their anniversary.
A year ago today Danny took me on a hike and what I thought was just a hike with a family friend turned very quickly into an unexpected first date. No moves were made on this first date. In fact, it took months for him to make a first move! And as a kiss on this bridge would have been nice, the kiss a year later was so much sweeter.
It kind of makes it even more adorable, knowing that the couple have been in each other's life for so long in multiple capacities.
This will be the couple's first child together and the first girl! Hudson is currently a mother of two boys, 14 year old son Ryder with ex-husband Chris Robinson, and 6 year old Bingham with her ex-fiance Matthew Bellamy.
"Omg I look like a crazed fan attacking you in this video!!!!!" commented Hudson's friend Sara Foster, who is also Fujikawa's stepsister. "I'm so excited!!!! Finally a girl!!!!!!"
The comment echoes the reactions of fans, who are overwhelmingly excited for the couple.
It's going to be exciting to continue hearing from the couple throughout Hudson's pregnancy! And fans can't wait to help the couple welcome their baby girl into the world.