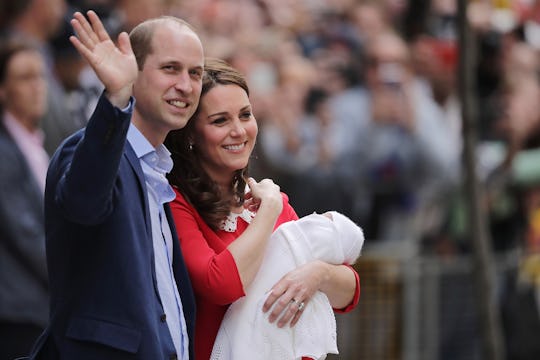 Dan Kitwood/Getty Images Entertainment/Getty Images
Here's What We Know About Maria Borrallo, The Royal Nanny
It's a tough job raising kids, and knowing that the little bum you're wiping will one day sit on the throne surely adds another layer of pressure to it. That's how you know that Maria Borrallo, who is Kate Middleton and Prince William's nanny for all three of their royal heirs, is one of the best in the business. And according to OK! magazine, she's been considered a part of the family for the last four years, even attending Prince George and Princess Charlotte's christenings and royal in-law Pippa Middleton's wedding.
Originally hailing from Madrid, Borrallo studied at the prestigious Norland College in Bath, completing an extensive three-year program that goes well above and beyond what you'd expect from a nanny academy. Us Weekly reported that beyond the basics of childcare, cooking, and sewing, Borallo is trained in Taekwondo, avoiding paparazzi, anti-terrorism protocol, and driving in extreme weather. The school takes its reputation so seriously, students aren't allowed to wear headphones, buy alcohol, eat fast food, chew gum, or even use a mobile phone "whilst wearing the Norland uniform." Unfortunately, if they do offer any training in flying umbrellas, the materials must be kept in the restricted section of the school's library, because there's no mention of it on the website.
The royal family isn't too keen on sharing information on Borrallo with the public; according to E! Online, when Kensington Palace released a statement confirming that she'd been hired in March 2014, it included the following admonition:
We will not be giving further details on Maria or her employment, except to say that The Duke and Duchess are of course delighted she has chosen to join them.
Prior to that confirmation, all E! could dig up is that she was said to have started caring for George the previous month after his previous nanny, Jessie Webb, reached the end of her contract, and that before she took the job, she worked for "other high-profile families." One would assume that discretion is an important aspect in the career of a celebrity nanny — particularly one working for the most buttoned-up family in the United Kingdom — so it seems as though near-anonymity is part of her contract.
It's hard to even find a picture of Borrallo; she's always hovering just of frame like a Milford man or a White House Press Secretary doing his best impression of Homer Simpson. The one time you have probably seen her is in those photos of George peering out of a Buckingham Palace window at last year's Trooping the Colour ceremony in honor of Queen Elizabeth's 91st birthday; Borrallo was the grainy, anonymous person holding him up there, and it's clear to see from her smile that she takes great pride and joy in raising the future king.
And she'd really got her work cut out for her now. A source told People that the Duke and Duchess had no desire to hire additional staff once Charlotte was born, with one source saying only, "They are happy with that arrangement." And just ahead of the third royal baby's birth earlier this month, another source told Vanity Fair that even once the workload tripled, there were "no plans" to employ a second nanny, because "Kate prizes herself on being a hands-on mother." I once heard of a nanny named Maria who took care of seven children single-handed, and that was without all that fancy martial arts and stunt driver training, so I'm sure this lady can handle it. Besides, non-royal grandma Carole Middleton is in town to help with newborn Prince Louis, People reported, so at least for now, the kids are still outnumbered.