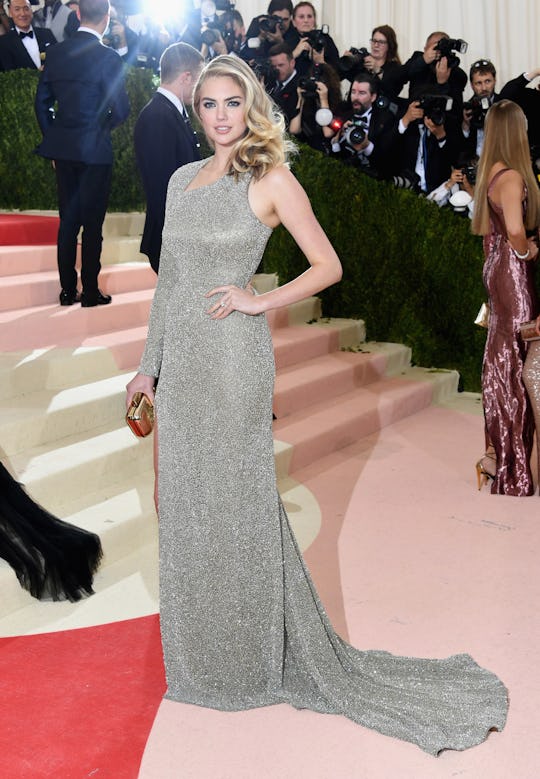 Larry Busacca/Getty Images Entertainment/Getty Images
Who Is Kate Upton's Fiance? Justin Verlander Is Well-Known In The World Of Baseball
As if the 2016 Met Gala — the annual, star-studded fashion event at New York's Metropolitan Museum of Art — wasn't exciting enough, the ante has just been upped. Model and actress Kate Upton, dressed in a glam silver gown and perfect old Hollywood curls, chose the event's red carpet to announce her engagement on Monday evening. The announcement, which was televised live on E! News, obviously prompted everyone watching to immediately ask: We recognize her, but who is Kate Upton's fiancé?
Turns out Upton's boyfriend of three years, Justin Verlander, is rather well-known to baseball fans, particularly baseball fans from Michigan. Verlander is the pitcher for the Detroit Tigers, and he's a darn good one at that. According to ESPN, Verlander was American League Rookie of the Year in 2006, and in 2011, he was named the American League's MVP. Pretty heavy accolades, no? It's no surprise that Verlander brought in a cool $28 million salary last year.
Upton, 23, showed off the diamond, given to her by her 33-year-old main squeeze, soon after arriving at the Met Gala's red carpet. The engagement, which has also been confirmed to Us Weekly by an Upton rep, was hinted at ever-so-slyly prior to the event by Upton herself, who posted a gorgeous Instagram photo of herself earlier in the day with her left hand hidden, along with the caption, "On my way to the Met."
In the photo, Upton's new ring is slightly visible. While this wasn't yet an official announcement, the situation became pretty clear when the The Other Woman star exited the Bowery Hotel in the East Village, departing for the Met. At this point, photographers snapped photos of the rather obvious ring as Upton held the train of her shimmering gown, according to Us Weekly.
While on the red carpet, Upton discussed the engagement with E! News. "He asked me right before his season started, so we've been keeping it on the down-low for quite a while," she said. So I'm excited to finally be able to share it with the world."
Upton, who was the cover model for the 2012 and 2013 Sports Illustrated Swimsuit Issues, couldn't have picked a better venue to announce her engagement, given her stature in the worlds of modeling and fashion. And while Verlander supports Upton's pursuits in the world of fashion, it's clear that Upton supports Verlander in the world of baseball, as evidenced by this photo celebrating the Detroit Tigers' season opening from Upton's Instagram account.
Upton's boxer, Harley, is a Tigers fan too. In fact, Upton told Us Weekly that Harley will only play fetch with Verlander. Smart dog.
Here's wishing all the best to Upon and Verlander — and Harley, too.