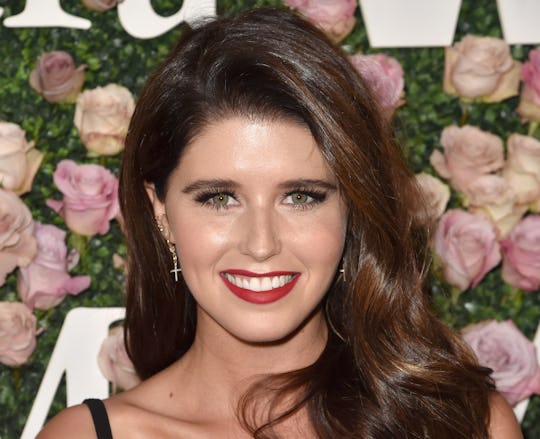 Frazer Harrison/Getty Images Entertainment/Getty Images
This Is Everything We Know About Chris Pratt's New Girlfriend
While some fans might still be recovering from the news that their favorite dinosaur trainer was divorcing his wife of eight years, Anna Faris, he's moved on, so it's time we get to know more about Chris Pratt's new girlfriend. So, who is Katherine Schwarzenegger? First of all, yes, she is one of those Schwarzeneggers, if that wasn't obvious. Her parents are Arnold Schwarzenegger and Maria Shriver. But more importantly, she was also spotted canoodling with Star-Lord at a fancy restaurant this week.
According to People, the pair have been dating since June, after being introduced by Shriver. And how exactly does Pratt know the niece of President John F. Kennedy, former first lady of California, and occasional fill-in Today show anchor? Nobody knows! Hollywood is weird like that. But apparently they hit it off really well, and on Tuesday night, the gossips were out in full force as they dined on steak, roasted cauliflower, and a dessert sampler platter at an Atlanta restaurant so upscale, its online menu doesn't even list prices. While People repeatedly referred to the meal as a "date," Us Weekly reported that Pratt's co-Avenger, Mark Ruffalo, was also there. Both outlets seem to agree that Pratt and Schwarzenegger were kissing a lot, though.
According to People's source, the two "are very happy together," "very compatible," and "have a lot in common." This seems pretty evident from what we've seen on their other dates, which all seem super wholesome. Their first public outing was a Father's Day picnic with Pratt's 5-year-old son, Jack, whom he shares with ex-wife Anna Faris. TMZ caught the trio again a month later, grabbing frozen yogurt after church. A source for Us said they're "both active in the church," and that Schwarzenegger's family "really likes" Pratt, and People's source said they're both looking for something serious. "Chris doesn't just date to date, and neither does Katherine," they explained.
So who is this woman that might become Jack's stepmother? She is, like most effortlessly famous people, a "best-selling author and lifestyle blogger." She published her first book, Rock What You've Got: Secrets to Loving Your Inner and Outer Beauty from Someone Who's Been There and Back, when she was 20. It's been described as part self-help book, part memoir, and is meant to teach girls to accept their bodies.
Her second book, 2014's I Just Graduated ... Now What?: Honest Answers from Those Who Have Been There (she does enjoy a long title) features life advice for young adults, collected from 30 of Schwarzenegger's closest famous friends, such as Eva Longoria, who says a degree is "just a stepping-stone," and Toms shoe company founder Blake Mycoskie, who offered this sage wisdom: "When you are good at something, the money always follows." OK! Schwarzenegger's own advice for unemployed college graduates is to "just pause," which must be very nice for those who can afford it. Schwarzenegger doesn't take credit for inventing the gap year, however; she mentions that Jesus Christ and Henry David Thoreau made similar life choices.
In addition to her nonfiction work, Schwarzenegger also wrote a children's book. Maverick and Me, published last year, was inspired by the life of her own dog, and encourages readers to rescue animals rather than purchasing them from breeders. As for that lifestyle blog, most of the entries aren't actually written by Schwarzenegger; they're just advertorials authored by various beauty product representatives. Her Instagram, too, is mostly adspace, but boy, can she frame a nice shot. At any rate, it's good to know that she's ambitious and knows how to hustle, even with a wealthy family to support her. And just think, if she and Pratt had a kid, they'd be one-quarter Kennedy, one-quarter Terminator, one-quarter alien demigod, and one-quarter Johnny Karate. I'm so for it.